Mayhew was a winner in Ocean's annual digital creative competition
As a record number of owners are forced to give up their pets to shelters, scores of dogs and cats are left looking for animal lovers who are able to adopt or foster them.
Animal welfare charity Mayhew hopes to give dogs and cats a second chance with a unique experiential outdoor activation which highlights the importance of adopting rescue animals.
Loved For Life was a winner in the charity category of Ocean Outdoor's 2022 digital creative competition which seeks to foster bold creative ideas.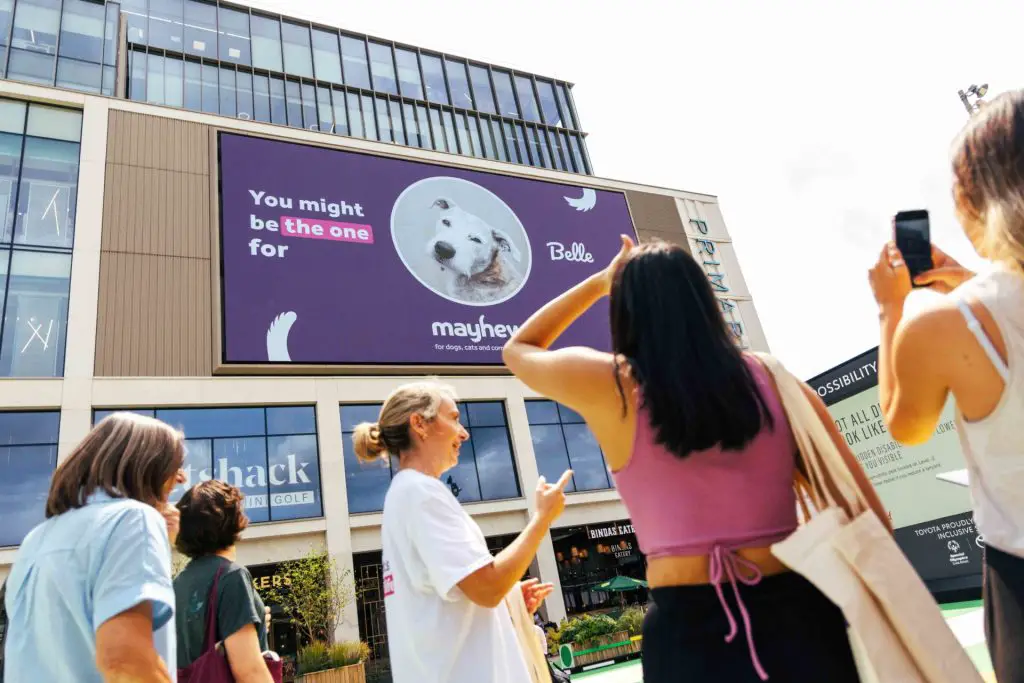 Produced by Ocean Labs and Mayhew, the activation took place at Westfield London on June 29, amplified more widely across 11 Ocean full motion screens, supported by PR and social activity.
To help match dogs and cats looking for loving home with a suitable potential adopter, the large format screen in Westfield Square posed questions like "Are you more cat or dog?" and "Do you prefer early mornings or lazy days?"
Westfield London visitors were then invited to complete a short quiz on a tablet which used their replies to pair them with a dog or cat currently waiting to be adopted. Once the responses to the interactive billboard were locked in, the potential matches appeared on the large format screen together with a QR code which took participants to the Mayhew website and further information about their range of services for dogs, cats, pet owners and communities.
Visitors had the chance to interact with Mayhew brand ambassadors and volunteers on the day as well as meet Mayhew therapy dogs and learn more about the charity's important work.
Mayhew has seen a surge in demand for its range of veterinary and animal welfare services and an increase in requests from pet owners to give up their animals. In the first five months of 2023 alone, the number of requests from pet owners to give up their dogs had increased by 54%, and the same figure for cats is 74% compared to the same period in 2022.
Mayhew CEO Sherine Wheeler says: "There is a very worrying increase in people seeking our support to rehome their pet dogs and cats. At the same time as having to operate waiting lists to manage our capacity, we are having to work very hard to find new ways to reach prospective adopters and foster carers as they too struggle to make ends meet."
"The opportunity to reach thousands of people across West London and encourage them to see how they can help – either by adopting an animal that needs a second chance, or by supporting Mayhew – is invaluable. Ocean Outdoor's support in delivering this campaign will make a real difference to the dogs, cats, pet owners and communities we help."
Ocean Outdoor UK CEO Phil Hall says: "Our competition seeks ideas that leverage the entertaining, immersive and technical opportunities of DOOH. Mayhew have done just that, putting creativity at the heart of their activation. This lovely campaign is fun, highly shareable and addresses an important topic. Britain is known as a nation of animal lovers. Let's hope these pets find the homes they deserve."
Ocean's 2023 digital creative competition opens for entries shortly. To find out more visit