Childcare costs are an increasing burden on UK parents and the economy as a whole with a majority of mothers saying it no longer makes sense to work.
Punchily-titled charity Pregnant Then Screwed has hired Saatchi & Saatchi to help out and the centrepiece of its campaign is a baby crying, a noise researchers say it's impossible to ignore whether it's your baby or not.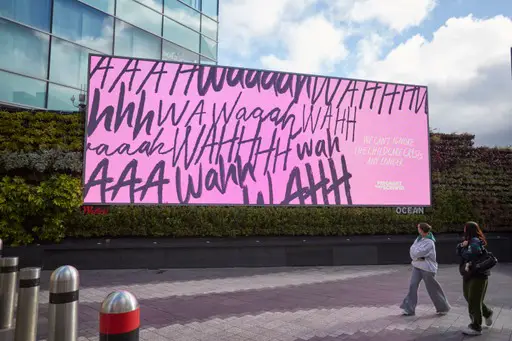 PTS communications director Lauren Fabianski says: "Mothers can't pay to go to work, it doesn't make any sense, but after years of underfunding from the government and ever-increasing childcare fees the majority of mothers now say that it doesn't make financial sense for them to work.
"Childcare providers are desperately underfunded, with more than half saying they operated at a loss in 2022, and on top of this we're seeing early years workers as staff falling below the poverty line due to low rates of pay. The whole sector is on its knees, and it is continuing to collapse around us, meanwhile more and more mothers fall out of the workplace."
Saatchi CCO Franki Godwin says: Franki Goodwin says: "If you've ever tried to do anything whilst there's the sound of a baby crying nearby… it's impossible..even if it's not your baby. Humans are hardwired to take notice of this sound and we're proud to have partnered with Pregnant Then Screwed to create a campaign impossible to ignore and we hope that in these weeks before Mother's Day, our message will be heard and listened to."
'A Cry For Help' centres on a core audio asset of a baby crying, developed with Professor Lauren Stewart, Professor of Psychology and founder of the Music Mind and Brain MSc course at Goldsmiths, University of London. Supplemented by digital Out of Home, including Ocean Outdoor's site at Eat Street, Westfield, London (pictured above), social media and Spotify.