One of the more diverting aspects of choosing our Agencies of the Year in 2018 is wondering if the contenders will still be around next year (one of them certainly won't be.)
So let's crack on with it.
This year we're choosing a UK Agency of the Year, a US Agency of the Year, a Media Agency for the first time in a while, a Network and an International Agency of the Year.
Let's start with Media Agency.
Emma Hall writes:
Media agencies are more subject than most to the slings and arrows of global alignments, so it can be hard to keep track of who's really leading the pack, but OMD UK has come out on top in the UK this year.
If new billings are the measure, OMD is winning: the agency won Lidl's £70m media planning account as well as Barclays, Betway, Tourism Ireland, Activision, Daimler, and Marella. It also piched for and retained its Levi's account, and claims £238m in new billings.
If creativity is the measure – which it isn't often enough in media – then OMD has shown what a difference it can make to an agency, and its client relationships, particularly at a time when the industry is so commoditised.
To celebrate 50 years of McDonald's, OMD dared to turn the outside of Waterloo's Imax cinema into a giant Big Mac. For the launch of The Handmaid's Tale season 2, the agency (with the always excellent 4Creative and Talon Outdoor) provided some stunning reminders of the horrors of Gilead: outdoor executions told female commuters that their place is in the home, and print reminded them they are not allowed to read.
The partnership with Lidl is already showing confidence through its campaign "sabotaging" upmarket rivals' posters at Christmas.
CEO Dan Clays has done a great job of picking up the pieces after a dismal 2017 in which the agency lost Boots Walgreen, PSA, and Carlsberg, as well as some key staff. He made some smart internal promotions and created a leadership team (65 per cent female) that has quickly gelled into a powerful force.
OMD UK's 2018 got a big boost when McDonald's decided to call off its media pitch, leaving the agency mercifully unscathed by the vagaries of global media activity, for once.
As Clays told MAA: "It's been an amazing year, I don't really want it to end." Not many business leaders can say that about 2018.
Creative agencies had a rough old time in 2018 with WPP's Y&R being merged into VML and JWT into Wunderman. In any business it's wise to follow the money and it seems that the tech-based practitioners are making more of it these days with some creative agencies being reduced to design departments.
There's an upside too, of course. The relatively small number of creative agencies that can perform at scale are in more demand than ever. In 2018 they were a mixture of venerable names and newbies.
Our International Agency of the Year is a relative newbie. Emma Hall again:
It's once again over to Paris for MAA's International Agency of the Year (last year it was Buzzman.). Romance started out in 2014 with backing from Omnicom (two of the three partners came from DDB) and has really hit its stride this year. Every ad we saw – Intersport, Intermarché (below), PokerStars, Uber Eats with Coca-Cola – was a piece of quality storytelling that held tight to a brand truth.
Romance's other clients include more A-list marketers: Aldi, Milka, and Aviva.
The agency's simple mantra is: "We work hard and we are nice to people." The founders may have something in common with the UK's own DDB breakaways, James Murphy and David Golding, in that the mission is to put ideas and creativity at the heart of the enterprise. Romance's manifesto says the agency values ideas over numbers, hearts over brains, and dreams over cynicism. Seems to be working.
For US Agency of the Year it's been hard recently to look beyond Droga5 although it's had its ups and downs. Wieden+Kennedy has also had a brilliant year. And there are a host of interesting newbies in the US now: the female-founded Joan being just one.
We're going this year for another Omnicom company Goodby Silverstein & Partners. Founder Jeff Goodby is still making the case for traditional ad virtues (even though the agency has all the modish tech bells and whistles at its disposal) and the agency has been producing outstanding work for decades.
One ad in particular got it over the line this year: BMW X5. It's just a great story for what looks like a formidable product and you really enjoy watching it. That's it – but what more do you need?
Last year's Network of the Year was the UK's The&Partnership which established itself on the international stage with its network of on-site agencies for Toyota in Europe and what seems to a thriving operation in North America, notoriously difficult for UK agencies to crack. This year has been one of consolidation but the agency picked up Wella globally towards the end.
But we can't ignore Wieden+Kennedy. Wherever you looked Wieden+Kennedy produced outstanding work (its UK office is one of our contenders for creative Agency of the Year.) In the US it's struggled at times to make New York match Portland HQ but this year New York came into its own, most notably with its brilliant 'Built. Ford. Proud,' squarely aimed at the Trump heartland for the ultimate blue collar brand.
The agency also moved pretty seamlessly to a new trimmed down management as founder Dan Wieden steps back and became the go-to agency for big companies needing a little creative stardust: KFC, Procter & Gamble and even AB InBev's Bud Light ('Dilly Dilly' and all that – not everyone is a fan.) At the same time it's the tech disrupters' agency of choice too, a good place to be these days as they've got the, er, money.
So a worthy Network of the Year.
Our Creative Agency of the Year is always a hard-fought contest even though, so far, there've been a limited number of winners. Adam&eveDDB has won twice, Wieden+Kennedy twice and Mother once.
This year we began with a longish shortlist: all three of the above plus WCRS (the agency that's going to be 'retired' next year by owner Engine – WCRS would have won if the award had been made a half-time in June) and Lucky Generals which had its best year to date with loads of decent Amazon work including an outstanding Super Bowl ad and it also won the Co-op.
Also noteworthy was VCCP which hauled in new business with its US outpost M/H VCCP producing what may be the best Christmas ad for Audi. It also got Cadbury back on track.
McCann in the UK has settled down with assured creative direction and the steady hand on the tiller of group boss Mark Lund, who would probably win our corporate manager of the year award if we we were awarding one. A Kingston Smith survey showed its gross income to be way ahead of its rivals but that's what McCann does best: big. Mullenlowe deserves a mention for integrating indie agency 101 efficiently into its offer. Its 70th birthday campaign for the NHS showed 101-ism to the full. Mullenlowe also won Uber, which may be a game-changer.
But the short shortlist was the three old hands – A&E, W+K and Mother – because they remain the best agencies in the UK and all of them had a pretty good 2018.
You could give this award every year to adam&eveDDB with few complaints. It wins the most awards, regularly picks up big new business, makes a lot of money and seems to move smoothly from one generation of management to the next. It has restored Omnicom-owned DDB's fortunes in the UK to a remarkable degree and its New York outpost is alive and kicking although maybe hasn't moved as fast as it would like.
The first half of 2018 wasn't great by its stellar standards: the launch 'School play' campaign for John Lewis & Partners and Waitrose & Partners didn't fly although it subsequently seemed to master this difficult brief. Ditto the launch campaign for the National Lottery. Some people found this too gloomy although, it seems, National Lottery punters returned in droves.
But A&E hit its stride in the run-up to Christmas with spot-on efforts for the above two clients (or is that three?), Save the Children and our old friend John Lewis. Its Elton John effort for John Lewis divided opinion too but works when you see it as "small boy (who just happens to be Elton John) gets piano for Christmas." Younger people, who don't see JL ads as a genre in their own right, loved it. The agency also produced the outstanding CALM campaign against male suicide.
Remaining founders David Golding and James Murphy are off to do their next thing in a year's time after completing their earn-outs and installing a capable multi-layered management.
Wieden+Kennedy UK (last year's winner) finished 2017 with a rush of new business on top of some outstanding work. This year's been quieter on the new biz front (although it may have some good ones stashed away) but the work showed an enviable consistency.
Nike's Londoner (below) is many people's ad of the year despite a wholly avoidable spat with a smaller fashion brand.
For Three it found a way to show that those phones that spoil our lives can be useful too. It's the only UK agency that has ever persuaded us to like mobile companies.
Mother won a couple of years ago and then rode something of a roller coaster, losing one of its flagships, Boots, to a Martin Sorrell-inspired WPP deal. Boots' UK management promptly rushed out as many ads as it possibly could, via Mother, even though it was supposed to have lost the business.
This year it lost another such account, MoneySupermarket.com, to everyone's amazement. Like it or not, this had more impact than anything else in that marketplace. There must have been times when Mother wondered if trying to work with such pesky clients was worth it. It also saw Vauxhall return to its traditional home of McCann when PSA bought it. But that's the danger with being mainly a UK agency although Mother has outposts in New York and LA and a joint venture in the Far East.
But Robert Saville and Mark Thwaites' creation is nothing if not resilient, with the fortunate knack of making quite big sums from some of its off-piste investments.
The agency has also brought on board Michael Wall, the head of Lowe Group before it became part of Interpublic's Mullenlowe and a former founder partner of Fallon in the UK. Wall has made a difference – playing Grand Vizier perhaps to Saville's Sultan – and the agency has lightened up a bit.
Now a venerable 21 Mother is mostly helmed by a young crew including joint ECDs Hermeti and Ana Balarin. Over 80 per cent of its people work in creative, strategy or production (exactly what clients are demanding these days) and the work is sparky and original.
KFC was the stand-out campaign with a perky Christmas effort and a brilliant response to the time earlier in the year when a change of distributor led to KFC running out of chicken.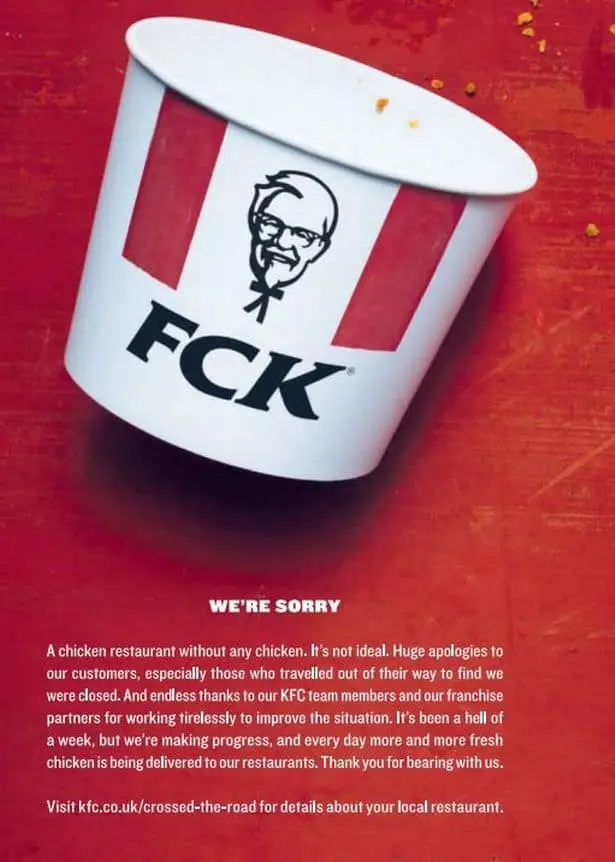 The agency brokered the deal that led Iceland to adopt client Greenpeace's palm oil campaign as its Christmas ad, banned by ITV because it was too "political" (to the ire of ITV CEO Carolyn McCall) which went on to be a viral sensation.
And you can have good old brand building too, as for Stella.
On the new biz front it won a number of accounts including Samaritans, Yopla and Dune, topped by the biggie (it hopes) Sky.
If there's a tiny quibble it's that, although it's certainly made the news, there hasn't been anything quite as artistically stunning as its 'Beds' ad for IKEA from a few years back although Mother still produces the goods for IKEA. Mother is at its very best when it takes its foot off the accelerator and goes for cruise control.
But Mother is brave, ballsy and fiercely independent. In a year when such attributes in adland have been under unparalleled pressure it's a worthy choice as our creative Agency of the Year.
Update
No, we haven't changed our mind. Mother has brought its strong year to a close with the Capital One account.