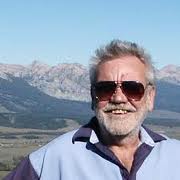 Back in 2011 George Parker predicted a future even more dominated by ad agency-based holding companies, a future that is coming to pass with the proposed merger of Omnicom and Publicis  Groupe. Here's his view of Omnicom and the most aggressive of the lot, Sir Martin Sorrell's ever-acquisitive WPP.
Back in the US, sits Omnicom, the BDHC (Big Dumb Holding Company) that for many years was by far the biggest of them all until WPP surged into the lead… But, more of that in a minute.
Created in the mid eighties by the merger of BBDO and DDB, Omnicom quickly grew to be the biggest, baddest ad conglomerate on the face of the planet. It was also the smartest of the BDHCs in as much as it was clever enough to buy really good agencies such as TBWA, Chiat, Abbot, GGT, and best of all, Goodby Silverstein + Partners. It also avoided buying banks, bicycle repair shops and massage parlors.
Even more importantly, unlike most other holding companies, it has a history of not sticking its fingers into any of its respective agency pies that are cooking along quite nicely, thank you!
Just like all the other holding company CEOs, Omnicom's, John Wren, had no prior advertising experience before joining DDB as VP of finance in 1986. He was however, the co-founder of something called, Olympic Deck Hockey, which I guess can't be any more fucked up than anything you can imagine in the advertising business.
As further proof of how these guys seem to exist in some kind of parallel universe, it was reported at the beginning of 2009 that Wren had been awarded one million stock options with a face value of $25 million, this was a mere 13 days after he had laid off 3,500 Omnicom employees, just in time for Christmas. In "corporate speak" this would be known as "Holistically Efficiency-Sizing Corporate Assets!" Well worth a $25 million "performance" bonus. Oh, and did I forget to mention, his annual compensation that year was $10.3 million!
Isn't capitalism the greatest scam you can imagine?
And now we come to the ravenous, snarling, slimy fanged, and impossible to satiate BDHC of them all… Yes, folks, I am talking about WPP. The feudal empire of Sir Martin Sorrell, who all loyal readers of AdScam will know I continually refer to as "The Poisoned Dwarf!" As I hinted above, for years, Sorrell was driven to despair in his never ending quest to catch up to and overtake Omnicom.
He finally, Hosanna, did it in 2009.
Update: Since writing this, the poor bugger has been overtaken again with the proposed merger of Publicis and Omnicom, or as I refer to it on AdScam… "PubicCom."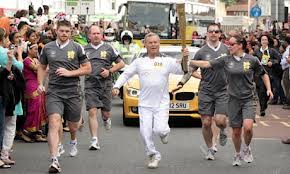 Unlike the other big three, WPP is without doubt the creation of one man. And, in fact hats off to him for his relentless, balls out determination to create this fetid empire. Unlike the other BDHCs, the torch was not passed on by the original founder, as he sailed off on his battleship sized yacht to enjoy his ill gotten gains. No, in the case of WPP, Sorrell created the torch, manages the torch, and will probably go to that BDHC in the sky, clutching the torch (left).
As expected, Sorrell was originally an accountant, who became Saatchi & Saatchi's CFO back in the days when the "cockney gits' were about to hit the big time, thanks to their non-stop kissing of Maggie Thatcher's arse (you can read all the sordid details about this in my book, The Ubiquitous Persuaders). It is claimed by many that Sorrell was the master mind who made Saatchi's agency acquisition spree of the seventies and eighties possible, through leveraging and earn-out tactics that had never, ever been exercised in the rather staid British ad biz. But by the mid eighties, little Martin decided, that fuck it, he wanted, and God damned deserved some of that lovely dosh Maurice and Charlie were blowing on their millionaire toys. What the hell, it was time to go into business for himself.
In 1985, little Martin bought a company named Wire & Plastic Products (WPP) which, with a name like that could only be involved in one kind of business… Making wire and plastic supermarket baskets and trolleys. Funnily enough, it still exists and still makes wire and plastic goodies. However, within two years, WPP had transmogrified into a grab bag of a couple of dozen companies, all doing odds and sods on the periphery of the ad biz.
But, then in 1975 he stunned the Adverati by swallowing up the granddaddy ad agency of them all, J. Walter Thompson, in a hostile takeover. At the time, the agency was five times bigger than the holding company, and everyone thought that Sorrell was out of his tiny fucking mind when he coughed up more than $566 million for it, paying $55.50 a share, when only a few months previously, JWT's stock had been trading for about half this amount.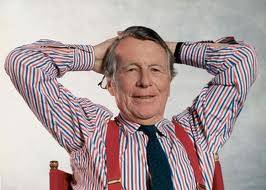 But this was just the beginning of Sir Martin's quest to become the biggest advertising holding company on the face of the planet. Within two years he'd acquired legendary agency Ogilvy & Mather in another hostile takeover. This achieved the over wishes of a rapidly aging David Ogilvy (left), causing the "Great British Man of American Advertising" to refer to Sir Martin as "that odious little shit."
And no, even though, ever since, hordes of WPP, PR-Nozzles, have tried to whitewash the descriptor  "shit" into "twit," I have it on the solid authority of someone who was "in the room at the time," that David definitely and unequivocally said "shit."
Since then, WPP has swallowed more than 650 companies, including Y&R and Grey, making the Poisoned Dwarf Emperor of the largest BDHC in the world (for now). However, it is worth considering that there have been a large number of monumental fuck ups along the way, including the much heralded launch of the "Agency of the future" Enfatico, a one hundred million dollar disaster designed for client Dell that lasted less than two years, and has since been quietly swept under the WPP rug. You can read all the juicy details of this debacle in Chapter Twelve of the world's greatest fucking ad book! Modesty forbids me repeating the title.
In the meantime, at the time of writing (2011), the Poisoned Dwarf is just a couple of years away from cashing in his self-created, five year $96 million bonus plan. This bonanza is something based on an esoteric mathematical "performance" formula worthy of Einstein, which virtually guarantees the pay out, even if WPP implodes and ends up back in the shopping basket business.
Interestingly, this humungous, self enrichment plan was announced at the companies first Annual General Meeting in its new Republic of Ireland headquarters. A location specifically chosen by Sir Martin in order for WPP to avoid paying UK corporate taxes. Interestingly, this was a move that took place shortly after the Queen had knighted him for services to Great Britain. Boy, this not only takes balls, it also demonstrates that in common with all BDHC senior management, it isn't about your clients, it isn't about your employees, it is all about you.
On a final note: David Ogilvy, who did far more for British industry and commerce throughout the world, was never considered for the Knighthood he would have so dearly loved, and so richly deserved. Perhaps that's why he is buried in the grounds of his French Chateau, rather than in Britain. (Rumor has it; the Duke of Edinburgh hated him!)
With the current state of flux the advertising business is going through, the sixty four thousand dollar question has to be what will the future look like for the holding companies? In the final chapter, I talk predominantly about the constituent agencies that are their primary revenue source. But with reference to the holding companies, in common with the "Too big to fail" US banks, the big four will survive, although they might end up as the big three, with WPP swallowing up habitually underperforming Interpublic.
Wow, you say… That's a pretty big assumption to make. Is it possible? Well, if you consider that Sir Martin bagged JWT when it was five times the size of WPP, and his seemingly insatiable appetite for growth, I believe it's definitely possible. But, irrespective of whether we end up with three or four (or two – Ed), the basic business model will still dictate that a third of each agencies income will continue to go to their holding company. This will persist in diminishing investment in long term plans that could adversely affect the quarterly bottom line. It will also encourage Corporate America's favorite knee-jerk remedy for not making its numbers. Massive layoffs. (Guaranteed to happen at "PubicCom.")
The beneficiaries of this will be those agencies that have maintained their independence and are seen to offer quality work at a fair price that actually does the job. The clients will be better satisfied, and the people working in the business will be happier at what they do.
In other words, we'll be back in the Mad Men days.
Unfortunately, as Zippy the Pinhead might say… Nahh… It'll never happen.