Media Bounty and the World Land Trust have launched an integrated advertising campaign which uses large format premium digital out of home (DOOH) screens across the UK to build awareness around the environmental charity's work to protect wildlife species and save threatened habitats.
'Must be the World Land Trust' breaks this month across six Ocean Outdoor large format screens in Edinburgh, Manchester, Leeds, Newcastle, London and Birmingham, supported by a large collection of digital assets and three full page advertisements in The Guardian newspaper.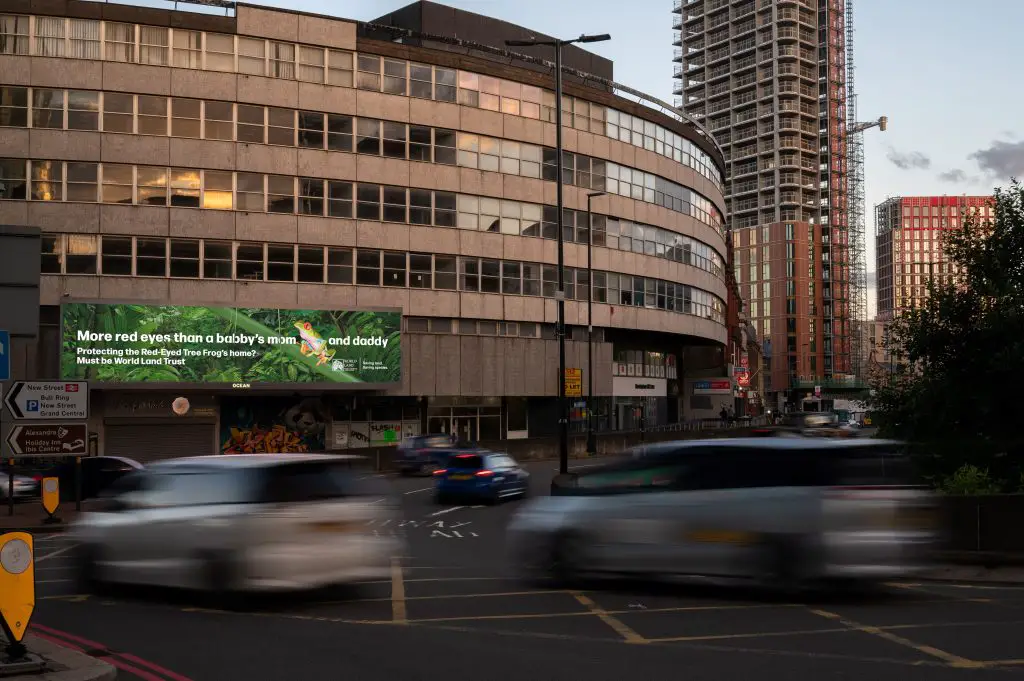 The DOOH work features colourful animations to highlight the 11,000 species of butterflies and bees and 900 species of birds that have been protected by World Land Trust initiatives. The outdoor ad space was donated by Ocean Outdoor under its annual Drops In The Ocean programme and runs throughout September.
Since its inception in 1989, World Land Trust and its overseas project partners have been focused on saving land to save species. They have been instrumental in the purchase and protection of more than 2,222,247 acres of tropical forest and other threatened habitats. In partnership with local NGOs grounded in the communities, they ensure that more than four million acres of land is under active protection worldwide, enabling the protection of over 11,600 species.
Because of this incredible work, the charity has received the seal of approval from patrons including Sir David Attenborough and Chris Packham. But with low brand awareness beyond the conservation community itself, the World Land Trust is often referred to as 'conservation's best-kept secret', a situation that Media Bounty was briefed to change through this campaign.
Dan Bradbury, director of brand and communications, World Land Trust, said: "Amid the climate and biodiversity crises, World Land Trust maintains an unwavering faith in the power of people who care. This digital advertising will spur curiosity and hope in observers, raising awareness of WLT's role in tackling these crises. Thanks to a brilliantly imaginative campaign by Media Bounty, we are excited to see the successes of our local conservation partners be so widely broadcasted."