Oh dear, just when you thought it was safe too venture into the water at MDC Partners this happens.
The perennially loss-making agency group – which owns all or part of Anomaly, Crispin Porter, KBS and 72andSunny among others – has posted a first quarter loss of $32.1m, up from $8.8m in Q1 2014. This despite a claimed organic revenue increase of 7.4 per cent.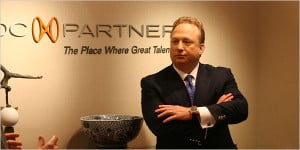 But at least the company's going to get some money back from founder and CEO Miles Nadal (left), $8.6m which he's going to repay following a Securities and Exchange Commission (SEC) investigation into expenses and other payments. These include travel, 'commutation' and medical expenses. Mind you, MDC spent $5.8m on legal and other expenses related to the inquiry.
MDC says it will adopt new policies regarding private aircraft, travel and entertainment. Which will be a relief to shareholders, no doubt.
The company plans to hire two new senior executives, including a senior vice president, internal controls and compliance, and a director, compliance & risk management, to manage internal controls and review monthly expenses. They won't come cheap either and the SEC inquiry is still continuing.
In most companies evidence of such behaviour on the part of the CEO would raise questions about his or her suitability for the post. But MDC has been such a high wire act for so many years that shareholders might fear that, without Nadal, the company might fall off. There is no apparent in-house successor either. Former KBS partner Lori Senecal is the senior advertising figure in the group but has no experience of managing a quoted company.
Nadal has built up a formidable stable of agency brands in his years at MDC. Most of them, with the arguable exception of Crispin Porter, seem to be doing well. But such a lavish corporate lifestyle doesn't look like the best way to move the company onto firmer financial ground.
MDC is capitalised at 'just' $1.43bn. Publicis Group paid $3.7bn for Sapient. Just asking..