Agencies and clients have been arguing the toss about payment ever since the old commission system fractured. In this, in the days when agencies controlled media too, they charged somewhere between ten and 15 per cent for their services – whether they did anything or not (if the same campaign ran next year you still got the money).
Since then things have moved on (allegedly) with, mostly, time-based payments, some commission (particularly for media) and an element of 'payment by results.'
Such was the theme of an IPA think-in yesterday featuring Martin Riley, group CMO of Pernod Ricard and president of the World Federation of Advertisers (WFA) and IPA president Ian Priest of VCCP, among others.
Here's the IPA's account of proceedings (you may as well have all of it):
A growing number of major advertisers want to get more from their agencies, Martin Riley, group CMO of Pernod Ricard and president of the World Federation of Advertisers (WFA, below), told an audience of agencies, clients and intermediaries yesterday, (July 8 2014).

One way to change that, he said, was to evolve payment models that rewarded agencies for outcomes rather than inputs, he said. "Between 2011 and 2014," he said, "the WFA has seen an increase in advertisers adopting performance-based remuneration."
Riley was speaking at the IPA Performance Adaptathon, hosted by BBC Radio and TV presenter Evan Davis. The event was part of a joint drive by the IPA and the Incorporated Society of British Advertisers (ISBA) to explore new payment models. It was the latest strand of IPA President Ian Priest's ADAPT agenda designed to create a platform to improve commercial creativity.
His ideal agency, Riley said, is an entrepreneurial, flexible, a true business partner, creative, and willing to share risk "by putting skin in the game. We want to get back to a core long-term relationship with our agencies where they are focused on achieving outcomes and impact, and they are trusted partners over the long term. Fair remuneration is part of that."
All change
Yet while the industry is adapting to huge technology-driven change, it was conservative in its approach to payment, said IPA President Ian Priest. "We have to reshape the business model to reflect the way ours, and our clients' business, is changing," he said. "Modern marketing is more collaborative, more partner-based, and agile. So why are we stuck with a payment system that doesn't reflect this?
"We know from working with ISBA members that all parties are committed to re-evaluating time-based payment. It could be value-based payment, payment by results (PBR), or risk/reward-based systems. We've talked about this a lot in the past, but now there is a real appetite for change."
For Debbie Klein, Engine Group CEO, the time is right. "Technology means agencies are more adaptive and multi-faceted. You can show cause and effect quickly. For boardrooms, this is the era of accountability. So you can show the value of your work and be accountable."
But both agencies and clients that wanted to change business models had to be brave together and take a long-term approach, cautioned agency leaders who were embracing new models.
Amanda Morrissey, general manager of WPP-owned digital agency AKQA, said that as the agency embarked on a programme three years ago to up its creative game and recapture its start-up ethos, some clients were not up for the journey. "Not all our clients wanted us to challenge them, or collaborate in new ways. We had to take the painful decision to leave them."
According to Klein, "the journey will take two or three years, and it will be difficult. But it's important to remember that this is not about completely dumping time-based payment either."
Value proposition
Both Engine and AKQA have focused their efforts on finding out what clients really value from them and where they can have a transformative effect on their clients' business. Working with remuneration consultants the Clear Partnership, Engine categorised its work three ways; lower margin, day-to-day output, characterised as 'do for me'; higher margin, consultancy-type 'help me think' work; and, in the transformative category, 'think for me' work.
The latter, according to Klein, is where the real value can be achieved and where an agency can enter into partnerships, joint ventures or invest in intellectual property such as apps that it can sell to the client. "But clearly there are limited opportunities there, so we have chosen a few forward-thinking clients to try this out with."
For Morrissey and AKQA, it was the change in the way the agency approached its customers that led to changes in its payment models, not the other way round. "We set out to obsess about our client's businesses, and as a result we are more involved in their issues, and more of a partner. Partnership means putting skin in the game, or having a joint venture. That means we're not just another professional services supplier. We've increased our income and our margin. It's a mixed model – fixed fees, PBR, joint ventures."
PBR can work in the public sector too and across multiple agencies, Alexia Clifford, Public Health England's deputy director of marketing activation, noted. The key to its Change 4 Life campaign is a rigorous commitment to measurement, which combines soft metrics such as innovation and responsiveness with hard metrics like delivery and quality, covering areas including audience reach and engagement and long-term behavioural change – goals shared by all agencies.
Jane Asscher, founding partner of 23Red, one of the Change 4 Life roster agencies, says involving procurement alongside client and agencies in the contract negotiations means that the PBR process runs harmoniously.
A key aspect of the programme involves baking in measurement from the start, said Pete Buckley, group strategy manager for media agency MEC, as well as data collation and data partnerships, including with academia and commercial partners like Tesco. According to the government's Efficiency and Reform Group (ERG), Change 4 Life has saved £14.3bn in public health costs between 2009/10 and 2013/14.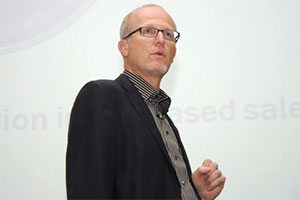 In the US, according to Tim Williams (left), founder of remuneration consultancy Ignition, agencies have evolved three broad types of value-based pricing models. One is the straightforward fixed sum, based on what the client is prepared to pay. "Clearly, they will look to negotiate that down," he said, "but agencies can serve it up as options in such a way that the client can meet their pricing preferentials."
The second is a variable price based on outcomes, constructed in such a way that client and agency incentives are aligned. Digital agency Razorfish, for example, takes a percentage cut of sales from an e-commerce website it built for Peets Coffee and Tea.
The P&G model, he noted, rewarded agencies for sales, market share and agency performance. Another agency with a luxury car client took a simple royalty on sales. "Depending on the client, you can construct different metrics and give them different weightings," he said.
The third involves dynamic pricing based on usage, often with the agency retaining the IP to a product and licensing it to the client. "There is one agency that developed a video game for a healthcare client, and takes a sum when the game is downloaded and played," he said. In another example, an e-commerce site development agency takes 15pc of first-year sales.
Measurement is key
Charging for value or outcomes via PBR models can only be achieved by appropriate measurement, and clients and agencies should beware of over-focusing on the short-term, cautioned marketing and effectiveness consultant Peter Field.
The temptation for clients, especially those with quarterly reporting calendars, is to measure for short-term results, Field said, "but we know from our analysis of the IPA Effectiveness Databank that the brand-building activity that drives real value, including price inelasticity, is long-term.
"If you measure performance over six months or less, then you will favour the short-term approach." The rise of Big Data, he added, would push clients to focus more on the short-term.
The solution, he suggested, was to go for a wide range of metrics – "the more balanced, the better" – and look for a balanced scorecard that covered short- and long-term.
A mixed portfolio

Summing up, Ian Priest said: "It's clear we're ready for change. We can see the likes of Engine and AKQA changing their business models and clients going with them. The IPA can't force it, but it can create the climate in which we can nudge agencies and clients towards change. "Good change can be contagious, and I want clients and agencies to be inspired by others. We're moving away from the theory, and we're moving away from the anti-procurement sentiment.
"What we have found out is that there's no one-size-fits-all approach. You can go for radical change, or you can experiment at the fringes. Think of it as a mixed portfolio of remuneration, where you have some time-based, some value-based such as PBR, and some where the relationship is about sharing risk and reward."

What a performance it all is.
All the above make some reasonable points but:
1/ Beware of anyone like Riley who talks of "putting skin in the game." The phrase was invented, I think, by legendary investor Warren Buffett. but Buffett controls most of the companies he invests in these days. Agencies don't control clients.
2/ Riley also spoke of paying according to 'outcomes' rather than 'inputs.' But why shouldn't agencies (and indeed anyone else) be paid for the work they do?
3/ By its own admission, WFA members have been slow to adopt performance-related agency pay. You can see why.
4/ Agencies, particularly the big holding companies, are often their own worst enemies. When Sir Martin Sorrell of WPP trousers £30m in pay and bonuses (as he did this year) the perception, inevitably, is that they are overpaid.
The debate will, no doubt, rumble on.