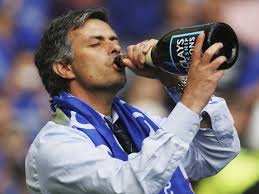 Bloomberg has launched something called Bloomberg Sports and it's secured quite a PR coup by using ts hyper-clever computers to predict the outcome of the new Premier League season.
Here are its top ten with points tallies for top three (we know you can't actually accumulate 81.7 points).
1 Chelsea 81.7
2 Manchester City 80.8
3 Manchester United 80.3
4 Arsenal
5 Tottenham
6 Liverpool
7 Everton
8 Newcastle United
9 Swansea
10 West Ham

Bloomberg's mighty algorithms (whatever did we do without algies?) also predict that promoted clubs Crystal Palace, Hull and Cardiff will be relegated (the full table with lots of other 'data' too) is here.
The list doesn't actually vary that much from most fans' back of a beer mat calculations in the pub (being remarkably similar to last year's table strangely enough) but it's a well-timed bit of fun.
And it might help to explain why Manchester United are so reluctant to offload Wayne Rooney to Chelsea.