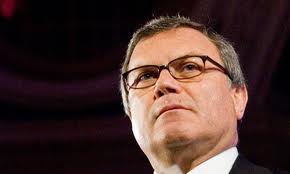 It looks as though WPP boss Sir Martin Sorrell (left) is set to trouser the £17.6m the company decided he was worth last year as shareholders at this year's AGM (set for Wednesday) will vote fairly narrowly in favour.
But they're far from pleased (one shareholder is quoted in today's FT saying Sorrell is in the "last chance saloon") and although Sorrell's remuneration package is to be reduced slightly this year there will still be a degree of disquiet.
The ongoing row has already lead to chairman Phil Lader, a former US ambassador to the UK, deciding to step down next year and the appointment of four new non-executive directors, nome of whom have any obvious connection with the worlds of advertising and media.
As far as Sorrell's future is concerned (he's 68) a lot depends on the choice of new chairman. For many investors he's synonymous with the company; he certainly is to staff and clients. Given that he founded the business as Wire & Plastics Products nearly thirty years ago, that's fair enough.
But a sprawling advertising, media, data and (increasingly) technology company valued at over £14bn is a lot for one man, however committed, to control. And Sorrell holds the reins of just about everything at WPP. A new chairman may require both a succession plan (shareholders certainly do) and a greater degree of delegation to a strengthened top team.
Kantar's Eric Salama oversees data as boss of Kantar (the least successful part of the company in financial terms) but there's nobody obviously in charge of advertising, media or tech. Mark Read is the digital supremo but his responsibilities cover the WPP spectrum. Neither are there regional bosses holding the reins of everything.
Sorrell might argue that such a structure would be unwieldy (and none of his competitors run themselves that way) but a new chairman (or woman) might decide that WPP is becoming so big that having a gaggle of network bosses (and WPP has dozens of networks) with just a few ad people on the board leaves too big a gap.
So it's a win for Sorrell this time round but it could turn out to be something of a Pyrhhic victory (albeit a well-remunerated one).