Holding company woes get worse with Interpublic shares diving more than ten per cent as it missed its Q2 earnings targets by a sizeable margin. Revenue declined by $32m or one per cent compared to last year.
CEO Michael Roth (below) said: "Our results in the quarter reflect the fact that macro uncertainty and political gridlock are affecting spending, particularly in the US, with clients demonstrating caution in terms of releasing budgets."
The US has been a disaster area for all the holding companies this year and this seems to reflect client suspicion of agency doings as well as extreme caution on overall spending.
WPP, the biggest of the holding companies, has yet to report, as has Dentsu, and more of the same grim news can be expected.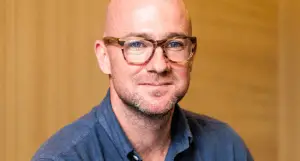 At the same time McCann Worldgroup, the biggest unit in Interpublic, has appointed former Brand Union CEO Toby Southgate (left) as its chief growth officer. Brand Union is a big branding agency in WPP.
McCann CEO Harris Diamond says: "What makes Toby so effective in business development is that he relishes the complexity of brand challenges in today's complex business environment and he knows how to harness resources to create innovative multiplatform solutions for clients."