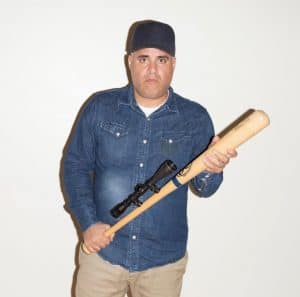 Gavin Lester (left) is chief creative officer at LA agency Zambezi. A UK expat with roots in North London, he has worked on high-profile campaigns regionally, nationally and globally for Autotrader, Coca-Cola, Sprint, Levis, Lexus, Sony, Netflix and Google. His career has spanned 20 years working in London, New York, San Francisco and Los Angeles for agencies such as 180LA, Goodby, Silverstein & Partners and BBH in London and New York.
My Top Tips
I haven't been to the Riviera for a while. I've been happily living my life and working on the West Coast, which is the center of the world as far as I'm concerned. But what the hell, I'm not above slumming. We all know Cannes is a crapshoot. Case in point: MAA's Top Tips are all over the map so far. I'm here to tell you, my predictions are smarter than the rest. And I've only got three, which makes it all very easy.
Full disclosure, I believe in simplicity and putting something great into the world, something that connects and is not driven by an impulse to reinvent the wheel, which is a distraction. The operative word here is craftsmanship. Creative work should be fantastic and skilfully rendered, from the idea to the writing to the art direction. I firmly believe our job as creatives is to connect with audiences and leave them with their mouths open.
So listen up…
Boost Your Voice – Boost Mobile
Influencing political campaigns can be problematic, just ask the Russians. So it was very brave for Boost Mobile to attempt to provide voting resources for minority communities, turning retail locations into polling booths on US election day. 180LA deserves credit for a campaign that not only does good, but organically relates its brand name to the message. Did I just say organic? Oi!
Swedish Number – Swedish Tourism
There was a time, before I got married, when the opportunity to hook up with a "random Swede" or a "Swedish number" would have been most, most welcome. Ahh, how time flies. This Swedish Tourism project has been rightly applauded for being clever and avoiding the hard sell, simply a way to "spark people's curiosity about Sweden" and encourage communication between people from different countries. Not only was it totally interactive and mobile with some cool technology including an app that patches calls through one phone number to randomly selected Swedes, but it obviously made lots of money for local communication providers who charged for the long distance calls. That's got to be a first: a campaign that turned a profit instead of spent a company's profit. I'm thinking, why not do this more often?
Paralympics – Channel 4
Mark my words, Grand Prix Film/Craft. Repeat, Grand Prix. This three-minute trailer is more meaningful and entertaining than most three-hour movies or three part TV series, or an entire week at Cannes, let alone the last three-day blowout weekend! Bloody hell. Yes Channel 4 won the big prize in 2012 with 'Meet the Superhumans,' but this is better. Is it a Broadway musical or a Busby Berkeley Hollywood spectacular? Whatever, it's truly fucking brilliant, and I defy anyone to tell me I can't say that. Yes I can.
In conclusion, you might have noticed, my Top Tips promote good causes and social awareness, even calling random Swedes is a good thing; after all, simple human contact is as humane as promoting superhumans. There's too much fake news and alt facts out there in the world today to accept or reward anything that's less than true and good and human.
I'm done.