The British Army has been researching 16-24 year olds, the so-called 'Generation Z' (if they're Generation Z what does that make me? Something from another alphabet perhaps) to discover that they're "altruistic, driven, open-minded and long to stand on their own two feet."
Soldiering isn't usually seen as a particularly altruistic activity so the army and agency Karmarama are using that old wheeze to grab attention – telling them not to do or think what it does want them to do or think.
Interestingly, as well as the digital stuff which will, presumably, be the main recruiting mechanism it's using radio and posters (in advance of a TV campaign later this month) and the posters take you back.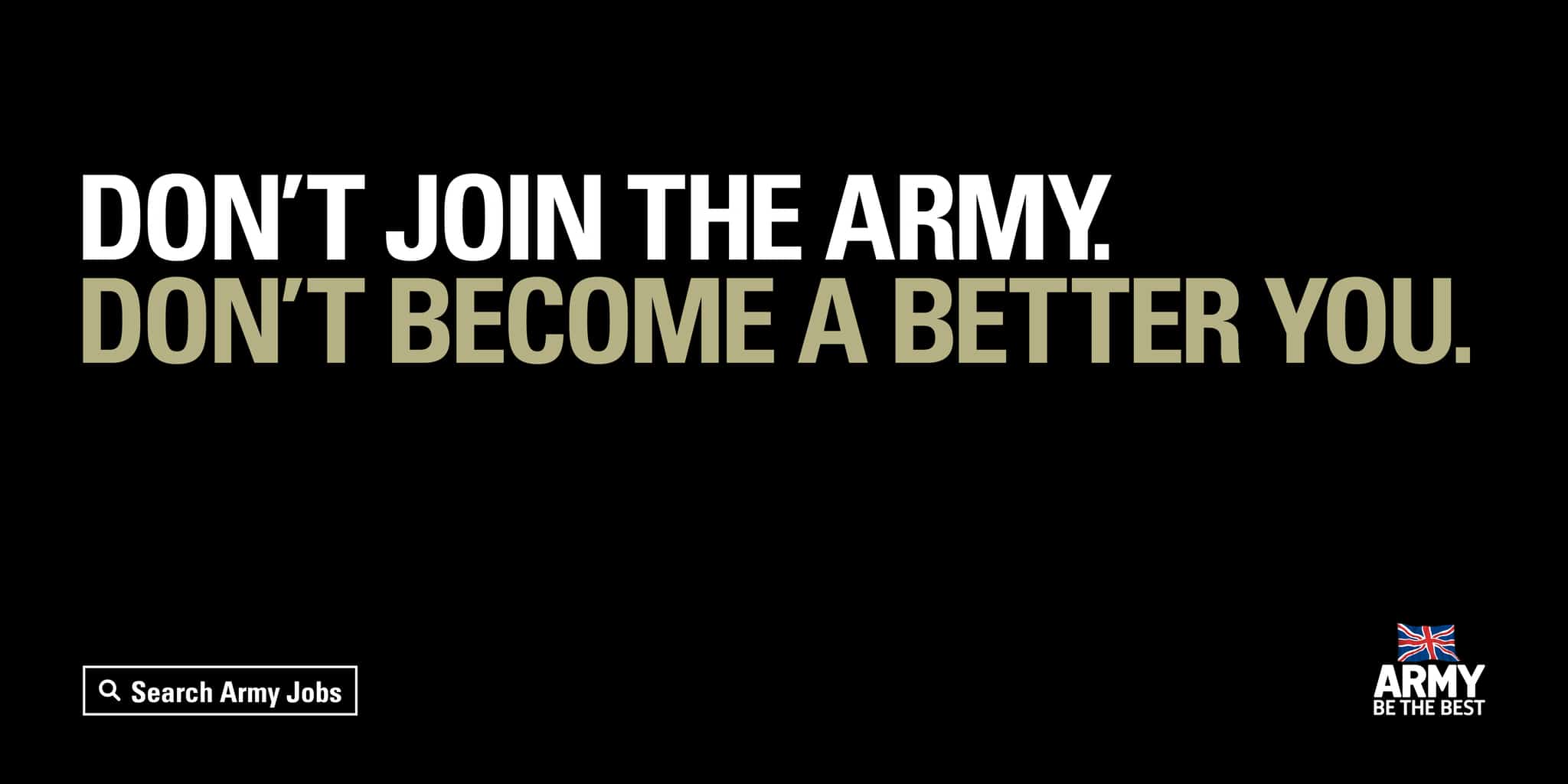 Army Recruiting and Training Division head General Chris Tickell says: "We want young people to understand the Army is much more than just combat. Currently UK armed forces are deployed in more than 80 countries across the world, conducting a range of activity and the Army has done some really positive work assisting with humanitarian efforts, such as in Sierra Leone combating the Ebola crisis, and UN peacekeeping missions in Cyprus.
"That's why we have deliberately designed a bold, new recruitment campaign that uses reverse psychology and a thought-provoking approach. It will encourage young people and those who influence them to notice the Army and start having open conversations with real soldiers and their friends and relatives. They can discuss any reservations they may have about joining head on and take the opportunity to consider how much the Army has to offer them and whether it is the right career for them."
Which is all very civilised although, at some point, you might be shot at or have to shoot if you're in the army. But if they said you might end up in Syria, as opposed to 'peacekeeping' somewhere, it wouldn't be so attractive.
Moving on to the ads. These are by Nik Studzinski, formerly of Droga5, and London agency vet Adam Kean, who joined Karmarama at the end of last year. Two people who know their business and can probably remember the days when the best posters grabbed attention with well-chosen words, images (or typography) and ideas.
Which these do. Be interesting to see the TV campaign.
MAA creative scale: 7.