With the recent MAA piece on the UK's first TV ads I am reminded that I actually owe a great deal to Brian Palmer (creator of the Gibbs SR spot and a performer in another, see below) who was head of TV at Y&R London when I was a snot nosed junior Art Director. He stopped by my office one day and complemented me on some layouts for Micrin anti-dandruff shampoo. Who did the headlines he asked. I did, I replied. Then stop dicking around as an Art Director and become a writer… You'll make more money. So I took his advice and fucked off to America..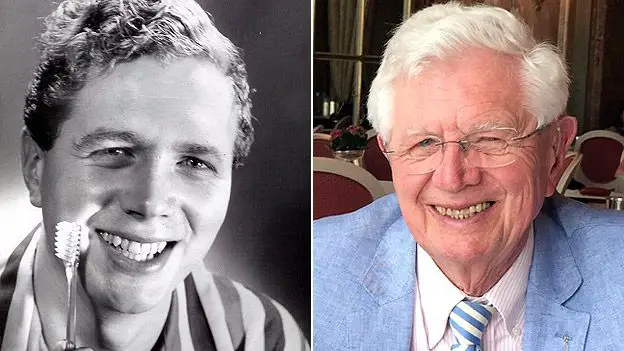 Brian should also be remembered as one of the founders of Kingsley Manton & Palmer, an agency which took great delight in breaking every rule and tradition that had governed the way advertising agencies conducted their business in Britain for over a hundred years. Formed in 1964, KMP was revolutionary.
The three founders were all existing directors of large agencies, and the really impressive thing about them was that they had the courage of their convictions. Unlike others, they set up shop without a single account. In those days, every agency belonged to the IPA, a trade group similar to the 4A's, which strictly forbade members to solicit clients; prospective clients were expected to approach the agency first, as this was obviously the "gentlemanly" thing to do. KMP said, fuck that, and went out and pitched everything. They also said the commission system was dumb, and they would operate strictly on a fee basis.
Interestingly enough, they also pre-dated the current vogue of having everyone work in one giant open space. However, they knocked that on the head after a year or so, as everyone could hear everyone else on the phone making plans for after hours boozing, drug dealing and shagging, the latter often with people they shouldn't have been shagging. Anyway, KMP did well and produced some great work. ("You can take a White Horse anywhere"). They even opened an office in New York, primarily to service the Cunard account, which with the demise of the great ocean going liner business (shortly after my first arrival on the Queen Mary to take the colonies by storm) eventually withered away, leading to the closure of their New World outpost.
However, during their brief reign, they produced some wonderful work, unlike another agency of the time Allen Brady & Marsh. Founder Peter Marsh was a onetime actor from Hull, who for some unexplained reason ended up in the ad biz, Marsh was famous for his outrageous new business presentations. It is rumored that on one occasion, when things were not going well, he jumped up on the boardroom table and did a tap dance routine whist his partner accompanied him on the piano. He got the account. But to be honest most of ABM's work, didn't live up to the creativity of the presentations. ("Whitbread Big Head.") Ouch, fucking ouch!