If you weren't too busy handicapping the Eurovision Song Contest over the last couple of weeks, you may have heard the shocking news that Manhattan landmark, The Four Seasons restaurant (below), will soon be closing down and moving to new premises, possibly down town. This is disturbing news for the mid-town movers and shakers.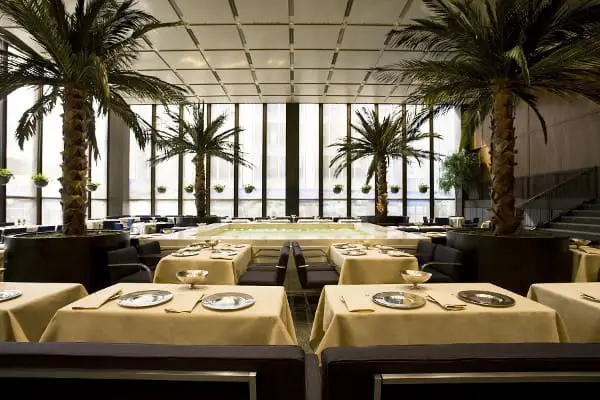 There have even been dastardly rumors that it may move to the newly gentrified 'Meat Packing' district. Yes, the transvestites and dog sized rats that inhabited the area for years have finally moved on, but the very name Meat Packing district would surely send shivers up and down the spines of regulars such as Henry Kissinger, Anna Wintour and gnarly old George Lois (more on him shortly.)
Apparently, this dire situation has been put in motion by the churl that currently owns the Seagram Building and who wants to triple everyone's rent and make them take the garbage out and clean the windows regularly. Even with the astronomical prices charged by The Four Seasons, the owners can't hack it, so the move is definitely on.
I first went to the Four Seasons in my New York Mad Men days in the mid sixties. I had been hired away from B&B by Dick Lord to work at Warwick & Legler, which handled the Seagram account and was situated in the Seagram Building, still one of the finest examples of modern architecture and which would never be built today as half the footage consists of the magnificent entrance terrace.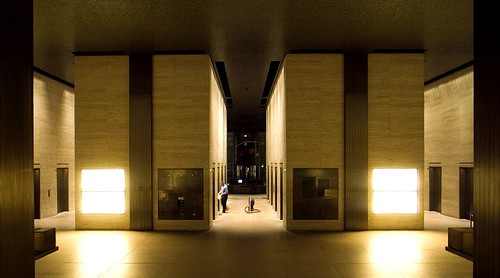 Now a venal Trump-esque developer would put another skyscraper on that insanely expensive piece of real estate. My interview with Dick consisted of three gin & tonics served on a silver tray by a Filipino houseboy. I signed up immediately. Everyone's office had a cocktail cabinet and 'cos we had a cigarette account, cartons of fags were delivered daily. Ah yes, the good old days.
As the Four Seasons belonged to the Seagram family, the agency got almost unlimited use of it, and we certainly took advantage of the situation. It is without doubt an incredible space containing marvelous art and obviously serving wonderful food. Back then, George Lois (below) was a regular and I have personally observed him entertaining clients (this was back in Papert, Koenig & Lois days) whist drawing layouts on the $300 Irish Linen tablecloth. Knowing George, he would no doubt claim that he personally invented the Irish Linen tablecloth.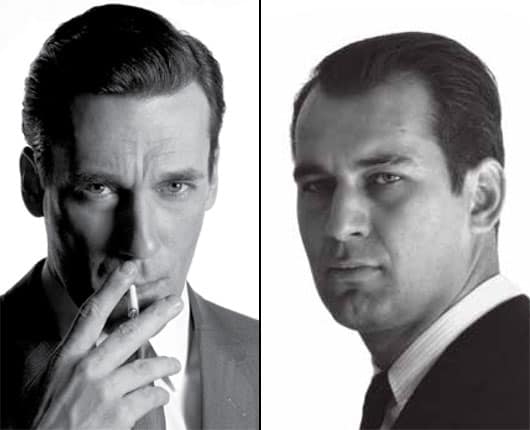 So, after treating the Four Seasons like a staff canteen in the sixties, I did not set foot in the place until a couple of years ago, when my good friend Tom Messner and his terrific wife, invited myself and another great friend, ace ad writer and current holder of the Dumbledore Chair of Mad Man Studies at Columbia University, Barbara Lippert, to dinner. It had not changed one iota, apart from the lack of giant Venetian crystal ash trays on every table for the illegal Cohibas; everything was as I remembered it including the impeccable service.
Topping everything off, just a couple of tables over, Hitler, wearing mufti, was dining alone. Or, if it wasn't him it was a perfect clone. Then in walked Einstein with his rather pert, big breasted 'daughter' in tow. Some things never change.
I'll finish off with a review that was written in 1959… We were invited to take our seats, and the meal began with sumptuous hors d'oeuvres. As for wine, we were fairly swimming in it, and it was fine Falernian at that. After several more courses we had begun to doze sleepily off, when Quartilla said: "No sleeping, gentlemen. Must I remind you again that the whole night has been consecrated to Priapus?"
Actually, this review was an 'homage' by some wanker who had lifted it from Petronius's Satyricon. As I said: some things never change.