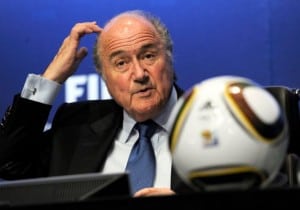 Fifa boss Sepp Blatter (left) is resigning, even as we write this, which surely testifies to the belated realisation on the part of its big money sponsors – who include Adidas, Coca-Cola, McDonald's, Visa and Sony – that they can no longer say: "It's nothing to do with us guv."
The 'nothing' being the endemic corruption within soccer world governing body Fifa, manifested most notably in its odd choice of Russia to host the 2018 World Cup and utterly bizarre decision to give the 2022 competition to Qatar, possessor of 50 degree temperatures in the summer but lots of loot and therefore influence.
Sponsors are usually, quite reasonably, reluctant to interfere in the running of the sports they invest in. Leave that to the professionals. But the scandals at Fifa are so thoroughly out of control, with US and Swiss law enforcers now on the case, that they had to do something.
Turn off the sponsorship tap and Blatter's ability to shower money on football associations (and their executives) outside the heartlands of Europe and South America would disappear.
Does this mean the 2018 and 2022 World Cups will be relocated? If Russia is turfed it could lead to the first major European war ever caused by football. In the case of Qatar, say goodbye to all that natural gas. Interesting times lie ahead.