That man Vincent Bollore is back in the news, this time in his role as chairman and significant shareholder in French media group Vivendi.
Vivendi has agreed to buy 80 per cent of video sharing website Dailymotion from telecoms operator Orange for €217m, valuing Dailymotion at €265m.
Bollore (left)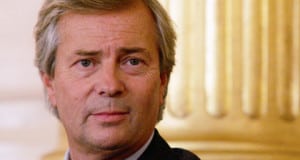 says Dailymotion will "provide the group with added reach in the diffusion of high-quality musical and audiovisual content across the world. This is a first step in our ambition to create a large, global group that is focused on media and content."
Which seems fair enough. Looking at the stratospheric valuation of digital media outifts in the US, €217m seems a snip.
Bollore is also the majority owner of French marcoms group Havas, now run by son Yannick. Havas has recently struck a string of content deals – including a tie-up with content marketing platform NewsCred – and last week appointed the appointment of music industry executive Damien Marchi as global content boss.
Bollore senior isn't averse to doing deals across his various interests. Last year he ruffled feathers (most notably Publicis Groupe boss Maurice Levy's) by wrenching the €500m O2 media account out of Publicis and into Havas via a backstairs deal following Vivendi's sale of Brazilian mobile business to O2 owner Telefonica.
With the new Vivendi now a pure-play content business, the benefits (for Havas anyway) of either a formal or informal tie-up with Vivendi are clear.
Which may alarm some of Havas' bigger marcoms rivals. Vivendi is valued at €32bn or £23bn, which compares to WPP's £20bn. And it has buckets of cash to spare. "Do the math," as they say.