It's been quite a while since France's Havas was seen as a buyer not a seller in the ad market but things are changing.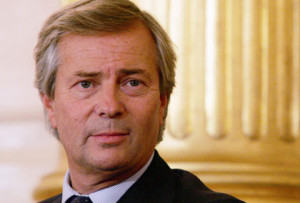 Vincent Bollore (left) has increased the family holding company's stake in the marcoms group from 36.2 per cent to nearly 73 per cent following a successful tender offer for the shares. Son Yannick replaced Brit David Jones as CEO 18 months ago.
Havas on its own would have found raising the money for a big acquisition hard but things are likely to change with Bollore's sizable fortune behind it. Bollore is also chairman and a five per cent shareholder in French media giant Vivendi but he says he wants Havas to remain 'independent' – although that may mean a multitude of things.
Now Havas is being seen in some quarters as a suitor for Interpublic, the perennial takeover target among marcoms' biggies. Activist investors Elliott Management has acquired a 6.7 per cent stake in IPG and a takeover is the quickest way for it to turn a profit, although IPG shares have continued to rise since the Elliott acquisition.
The US is by far the strongest ad market globally right now and likely to remain so as the rest of the world's economies – with the arguable exception of the UK, facing a potentially problematic General Election result – and most of IPG's business is Americas-based.
Buying IPG, currently valued at $8.2bn would be a stretch, even for Bollore. A successful bidder would have to pay about $10bn. But Bollore senior has surprised us before. When he failed to follow through his interest in Aegis by allowing it to be bought by Dentsu for £3.6bn – banking a healthy profit on his share stake – it looked as though his interests lay elsewhere. Maybe not.
We still wait to hear anything, by the way, from former Havas CEO Jones. When he left he said he was going to start a social cum good causes business but there's been no white smoke since.