Omnicom is close to securing 370,000 sq. ft. of office space in London's newly-fashionable South Bank area, the former RBS office at 2/3 Bankside, just off Southwark Street south of the River Thames.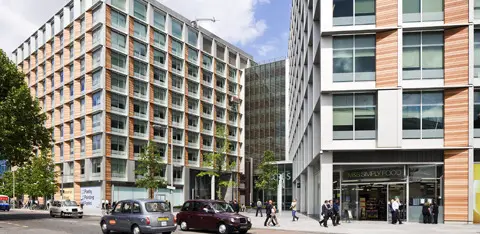 The US-owned marcoms giant has been looking for an HQ building for some months, including sites outside the capital. But Bankside is likely to prove more popular: the area is home to the Globe Theatre, the fashionable Borough Market food market and the Shard skyscraper, London's tallest building. Rupert Murdoch's Corp. is about to move into the 'mini' Shard next to the big one and WPP's Ogilvy & Mather is finally escaping from exile in Canary Wharf to a building overlooking the river.
The interesting thing is what Omnicom plans to move in there. Clearly it's too big for just a holding company HQ (and still would have been if Omnicom had merged with Publicis Groupe). Of Omnicom's big agencies AMV/BBDO's office is on Marylebone Road, TBWA is in Whitfield Street (the site is due to be redeveloped) and star of the moment Adam&Eve/DDB (winner of last week's Cannes Lions Agency of the Year award) occupies the iconic old BMP building in Paddington.
Omnicom also has a gaggle of media agencies under the Omnicom Media Group (OMG) banner and numerous marketing services companies under DAS (the rather quaint-sounding Diversified Agency Services).
So who's setting off for Bankside? Adam&Eve is bursting at the seams in Paddington's Bishops Bridge Road but would it want to share with some of the others? AMV/BBDO, for decades the top Omnicom shop in London, presumably likes having its own HQ. TBWA is hardly in a position to argue.
When the move happens it will be a further sign of London agencies relocating eastwards from their traditional Soho fastness. BBH is the only biggie left in Soho and, north of Oxford Street where there are bigger offices, Saatchi & Saatchi is moving to Clerkenwell and McCann has already decamped to Bloomsbury. JWT, Leo Burnett and Lowe & Partners are further west, in and around the posh Knightsbridge shopping area.