It's been a week dominated by the death of David Abbott, the Abbott Mead Vickers founder and great copywriter who died following heart surgery last weekend aged 75.
It must be quite hard for younger readers to 'get' Abbott; most of his best work was press (although he also produced some famous TV ads and, of course, the fantastic Economist posters).
I didn't know him very well although I can vouch for the fact that, gentleman though he undoubtedly was, he could also fight his corner hard and wasn't above a little bad temper on occasions. I once received a fearsome bollocking from him for writing in the London Evening Standard that I'd espied him driving his Porsche around Soho. This was worth a squib, I'd thought, as he was synonymous with Volvo – about as far from a Porsche as it was possible to get in those days – which was the account (his account) that secured lift off for AMV. David thought the client wouldn't be amused. He certainly wasn't.
When he retired he wrote a much-praised novel The Upright Piano Player about a man struggling to cope with the consequences of retirement. Maybe he did a bit too. He was a very serious man; striking you as sad sometimes – not about himself or his circumstances but la condition humaine.
One thing he regretted was the demise of independent bookshops. He was lucky enough to live in a part of London that was still relatively well supplied and here he is in a favourite – John Sandoe – talking about them. It's quite poignant as he envisages a heaven well-stocked with such shops.

It's the ads though that he'll be remembered for most and here's his famous 'Father's Day' ad for Chivas Regal (from early in his career), the famous 'ad without a headline.' You may need the magnifying glass.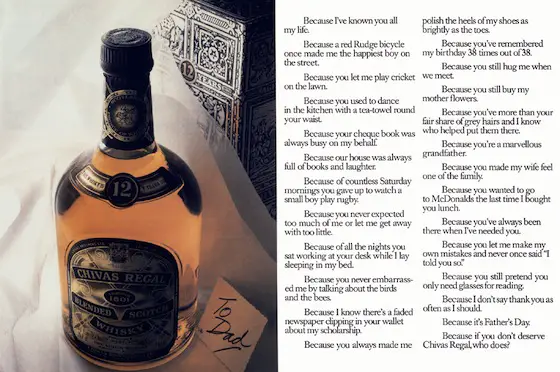 So here's the copy:
Because I've known you all my life.
Because a red Rudge bicycle once made me the happiest boy on the street.
Because you let me play cricket on the lawn.
Because you used to dance in the kitchen with a tea-towel round your waist.
Because your cheque book was always busy on my behalf.
Because our house was always full of books and laughter.
Because of countless Saturday mornings you gave up to watch a small boy play rugby.
Because you never expected too much of me or let me get away with too little.
Because of all the nights you sat working at your desk while I lay sleeping in my bed.
Because you never embarrassed me by talking about the birds and the bees.
Because I know there's a faded newspaper clipping in your wallet about my scholarship.
Because you always made me polish the heels of my shoes as brightly as the toes.
Because you've remembered my birthday 38 times out of 38.
Because you still hug me when we meet.
Because you still buy my mother flowers.
Because you are more than your fair share of grey hairs and I know who helped put them there.
Because you are a marvelous grandfather.
Because you made my wife feel one of the family.
Because you wanted to go to McDonalds the last time I bought you lunch.
Because you've always been there when I've needed you.
Because you let me make my own mistakes and never once said "I told you so."
Because you still pretend you only need glasses for reading.
Because I don't say thank you as often as I should.
Because it's Father's Day.
Because if you don't deserve Chivas Regal, who does?

It is sentimental (as he acknowledged – but in a good way). And there's a hell of a lot of him in it, even down to the Rudge bicycle.
And it's fitting that the last words are his.