Media Awards are funny things; effectiveness awards under another name. So a lot depends on the submission of skilful entries.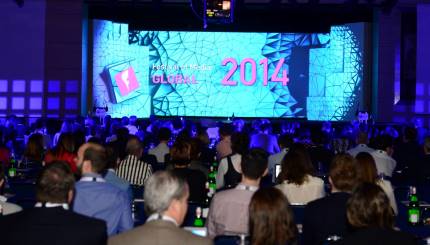 But the recent Festival of Global Media Awards (held in Rome) seems to be pretty highly-regarded; among clients anyway judging by the number of execs from big players on the jury, representing companies including GSK, Heineken, Mercedes-Benz and Diageo. Oh – and that ornament of the marketing universe, Paddy Power!
So to the winners. You may as well have the press release:
Starcom MediaVest Group was awarded Agency Network of the Year last night at the Festival of Media Global Awards in the Rome Cavalieri Hotel, with the most winning campaigns across different countries out of any agency.
Starcom's winning entries hailed from Poland, the Philippines, United Kingdom, Netherlands, United Arab Emirates, Denmark, and Sweden. The agency came away with Gold for two campaigns: Marabou Chocolate's 'The Chocolate with 6,000 Names' in Denmark, which won The Retail Award, and Prudential's 'Warsaw 1935' in Poland, which was awarded Best Communications Strategy.
UM Australia walked away with both Agency of the Year and Campaign of the Year for their innovative social media campaign 'XTL', which encouraged Australian teens to call out disrespectful or inappropriate online behaviour with the hashtag #XTL (crossing the line). Produced by UM for the Department of Families, Housing, Communities and Indigenous Affairs, 'XTL' won the Gold for Best Social Media Strategy, as well as the Silver in Best Targeted Campaign and Bronze for The Utility/Public Service Award. The campaign became popular not only over Twitter and Facebook, but also on TV and print media, and 90% of teens surveyed reported using #XTL in the right context.
UM also won awards for two other campaigns in Australia: News Corps' 'Fast Front Pages' (Silver, Best Communications Strategy) and ING Direct's 'Spend Your Lunch Well' (Gold, Best Entertainment Platform).
'We hear much talk about the need for brands to have a purpose beyond their core benefit, to use social as a natural pathway to their audience, and to have something simple to say to them which resonates. XTL ticked all these boxes in a way and to a level that no other entry came close to,' says Tom Gill, Global Media Director of Heineken and one of the judges.
For the first time ever, this year's awards introduced tiered judging of Gold, Silver, and Bronze awards to honour even more entries than ever before. The shortlisted entries were highly contested, with the judges going through several rounds of voting for many of the categories before deciding on winners.
This year's winners come from 19 different countries around the world, including Taiwan (winning Bronze in Best Event/Experiential Campaign for Red Bull's 'Soapbox Race'); the Philippines (Bronze, Best Engagement Strategy for UHP's 'First Step to Livelihood'); Canada, (Gold, Best Event/Experiential Campaign, with Budweiser's 'Red Light'); and Hungary (winning Gold, Best Use of Technology, for Telekom's 'Sky Gallery'). Indian campaigns also came away with Golds in two categories: Best Engagement Strategy ('Solder for Women', Gillette India) and Best Use of Mobile ('Mobile Entertainment Box', Kaan Khajura Teshan).
Independent agency Forsman & Bodenfors were responsible for two of Sweden's wins, with their campaigns for Volvo Trucks 'The Epic Split' and 'Live Test Series' both taking the bronze for Best Content Creation Award and Best Digitally Integrated Campaign, respectively.
Sameer Singh, VP, Head of Global Media at GlaxoSmithKline and Chair of the 2014 Awards Jury, comments: 'It's truly fascinating to see so many campaigns like 'XTL' using social media for focused, targeted outreach, and actually succeeding in changing people's behaviour and opinions. More than ever before, marketers are seeing the value of reaching out to specific audiences through social media – brilliant propositions and clever execution rule in the entries we judged from all over the world.'
Looks like a profitable venture for the organisers C Squared.
Nice to see Publicis Groupe's Starcom MediaVest and IPG's UM picking up the biggest gongs against, presumably, competition from the bigger battalions of WPP's GroupM agencies and Omnicom's OMG.
Do clients actually pay that much attention to stand-out campaigns (like the ones above) when it comes to the nitty-gritty of big media pitches or is it all about money and 'data?'
I see that Starcom's sister agency ZenithOptimedia has just lost the Comparethemarket.com media account, reportedly worth £110m, to GroupM's MEC in the UK. Last year Zenith lost £135m L'Oreal in the UK to another GroupM agency Maxus – which leave the PG shop looking alarmingly bereft.
There is a clear correlation between creative agencies' awards performance and new business (or so the agencies whop spend zillions on them believe anyway). I know that Zenith isn't Starcom (and, in any case, these are international awards not the UK's) but I remain to be convinced that media awards, while nice to win undoubtedly, translate to commercial riches.