Publicis Groupe, due to merge with Omnicom in the near future (as POG according to its enemies), is splashing out £35m to buy London media agency Walker Media according to a report in Campaign. Walker is 75 per cent owned by M&C Saatchi which will retain a 25 per cent stake.
Walker will be rolled into Publicis media agency ZenithOptimedia alhough it will remain as a separate brand in the UK, where it does most of its business.
Which, on the face of it, won't do much to help ZO in the UK where it is still reeling from the loss of £135m L'Oreal and the consequent departure of CEO Tim Hipperson.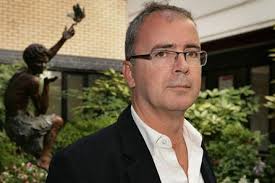 Walker representatives, headed by CEO and co-founder (with the departed Christine Walker) Phil Georgiadis (left) may feature on ZO's new 'management board,'which has replaced the CEO job, at least temporarily. It would surely have made sense to put Georgiadis in the ZO CEO hot seat although this may not suit his personal plans (he is reported to have already made £3m from selling Walker shares and still has just under five per cent).
As for M&C, it means even more cash flowing into its coffers (last year the founding shareholders sold its Golden Square building for a reported £40m) and, maybe, an admission that it can'r really compete in the international media stakes against juggernauts like WPP's mighty GroupM.
Omnicom and Publicis, meanwhile, are now the proud owners of yet another media brand. This brings the total to about 13 in the UK, which seems a bizarre number. There seems to be a big rationalisation job there for someone, most likely OMG's Colin Gottlieb (another former media independent founder to have done rather well out of the largesse of the big marcoms groups).