A Rube Goldberg machine (named after an American cartoonist and inventor) is an 'over-engineered contraption that performs a simple task in a complex fashion.' Pretty pointless (if amusing) but they sure work for advertisers and ad agencies.
Here's a new offering for Pepsico's Purina Beneful dog food by trendy NYC digital agency Deep Focus.

Nearly two million YouTube hits in a week.
And here's Honda's celebrated 'Cog' ad from Wieden+Kennedy London from a few years back.

This one's had over five million hits stretching back nearly a decade.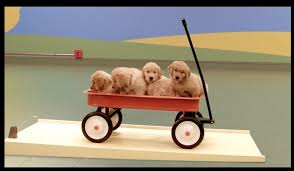 Are Pepsico and Deep Focus borrowing W+K's idea?
To a degree perhaps – but old Rube Goldberg (1883-1970) got there first.