Diageo and Anomaly are running a rather interesting online campaign for Captain Morgan rum; steering away from the 'yo-ho-ho' of yore and concentrating rather more on rougher aspects of the good captain's activities.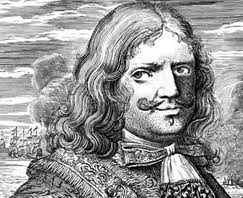 Henry Morgan (left), who lived from 1635 to 1688, was a child of the squirearchy (so quite posh) in England who became a privateer (someone licensed by the Brits to be part naval officer, part pirate), ending up as a vice-admiral and one-time governor of Jamaica. Unlike most pirates he died in his bed.
So here's one ad showing someone, maybe Morgan, probably not, shaving a male captive:

And another one introducing two unfortunate young ladies preparing themselves for an evening of pirate-style rogering (although they don't look too unhappy about the prospect).

Booze ads are like tobacco ads used to be: you can't say anything so you produce films or posters that tell a story and let people work their way back to the brand.
And, you have to say, Anomaly has done pretty well here (women might not see the latter that way).