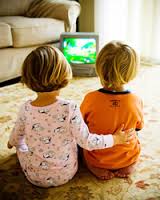 Before you stifle a yawn, there seems to be a considerable head of steam building up (in the UK at least) about advertising to young children, with calls from a group of writers, academics and single issue groups to ban it.
These people are backing a new campaign group called Leave Our Kids Alone which aims to combat, annihilate really, our old friend 'pester power.' And the obvious way is to ban ads (presumably now including online this and that) aimed at young children.
LOKA co-founder Jonathan Kent puts his case in the Guardian here.
Some opponents of advertising to children are opponents of advertising period: seeing it as the motor of a nasty, materialistic society. To some extent it is of course, but so is capitalism in the round and no-one has produced a more robust economic model.
But do young kinds have to part of it?
There are two main reasons why such a ban will be widely opposed: toy and game companies should be free to promote their wares as long as they stick to the rules and, without advertising, there would be no non-state broadcasting to children – which many people (possibly not including LOKA supporters) would see as dangerous.
There's also the wider question of children's personal rights (to see what they choose to see) but let's not go there.
What's likely to happen? Very likely further restrictions on ads aimed at children and further pressure of children's broadcasters. If the EU decides to wade into the argument there will be trouble.