You'd need a heart of stone not to laugh.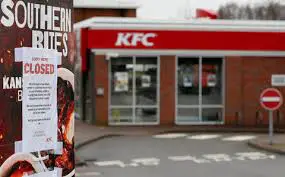 KFC in Britain has run out of chicken forcing it to close most of its outlets. This follows the company's decision to switch its distribution contract from food specialist Bidvest to DHL, which has blamed the, er, shortfall on "operational issues." Which is PR speak for can't do it.
The change meant the closure of a Bidvest depot with the loss of 255 jobs. DHL/KFC are, it seems, trying to service a national network out of one depot, powered by software from the comically-entitled Quick Service Logistics.
Which presumably means that Britain's motorways are jammed with mouldering chicken.
Another triumph for procurement.