In spite of my innate modesty, I can claim that during my tenure as Dorland's "Agency Fireman," I did pull off the odd miracle or two. The "Saving of Old Spice" was one of the more memorable. Even though Old Spice had been a client of Dorland's for a number of years, It had finally arrived at that awkward stage where it was now being described as "difficult."
You have to understand that at the beginning of all client/agency relationships, every client is obviously a "sweetheart." After a while they become more "demanding." Then they move on to being "difficult," finally ending up as "impossible." It's at this stage the agency, to its utter astonishment, gets fired. Anyone who's ever worked in a BDA has witnessed this scenario innumerable times.
Late one morning I was walking down Dorland's "Golden Mile." This was the top floor reserved for the agency's senior executives and their secretaries, personal assistants, drivers, personal chefs, trainers, gun carriers, boot lickers, flunkies etc. And yes, there was a golden carpet to complement the Chippendale furniture, oil paintings and Royal Worcester ceramics adorning the walls. The only noise being the murmur of secretaries arranging discreet lunches with clients (or mistresses) at Simpson's, or drinks with old "Hooray Harry" school chums at "The Club" on Pall Mall.
All of a sudden, a conference room door crashed open, and out burst a somewhat red-faced John Maltman (the CEO). He spied me in the midst of my usually futile attempt to persuade his secretary to allow me to perform indignities upon her person, rushed over, grabbed my arm, and pulled me into the conference room. Inside was the kind of giant mahogany table you knew had been handcrafted from centuries-old trees illegally pillaged from Amazon rain forests. Around it sat a couple of dozen people, all, with the exception of a rather distinguished gentleman at its head, looking extremely uncomfortable.
I'd been in the ad business, on both sides of the Atlantic, long enough to smell the rancid, throat-gagging fear permeating the room. Always a sure-fire signal the client was uber pissed-off with the agency. On one side of the table, I recognized the agency account people, the media number crunchers, the research hacks and the two scruffy 'gits' who were the current "flavor of the month" creative team. On the other side, some grim-looking and exceedingly pissed off clients.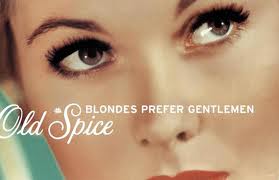 The reason for all this angst sat at the head of the table. His name was Geoffrey Sladen and he was the Managing Director of Old Spice UK. He was that kind of quintessential Englishman who could carry an iron-clad air of superiority merely by raising an eyebrow. His appearance was immaculate, the pin-striped, perfect embodiment of Savile Row tailoring complimented with an understated boutonnière.
A large silk handkerchief in his breast pocket matched the dazzling white, sea-island cotton handkerchief tucked into the sleeve of his jacket. His sleeked, spit-polished, dark hair with glistening silver temples topped his deep facial tan, the kind that only comes from Barbados and Gstaad.
But his air of superiority wasn't demonstrated through rudeness or lack of civility. As I later learned, he could show great humor and charm. It's something certain people are born with. Like Edward Fox playing the Duke of Windsor. You couldn't imagine him in the Dog and Duck with a pint of mild and bitter, dragging on a fag and wiping his nose on his sleeve.
Anyway, Maltman introduced me as "The Agency Fireman." Then proceeded to enlighten me on what was creating the chilly atmosphere. Apparently the creative team had just presented their ideas for next year's Old Spice campaign. Obviously Sladen was the only person whose opinion counted, therefore his blessing was critical and, even though no one said as much, I instinctively knew he truly fucking hated it.
He asked me to read the scripts and give my opinion. Obviously, as a Dorland's employee, he expected me to support the work. I read the scripts. They were terrible but, even if they had been brilliant, I knew that trying to sell this load of crap to the guy at the top of the table would be completely counter-productive. So, raising my head, I looked Sladen directly in the eye and said: "These are shit."
You could feel the air coming out of everyone like a pricked balloon. The faces on the agency side turned various shades of red; a couple even purple. On the client side, one guy choked with laughter and had to make a show of coughing in his handkerchief to disguise it. The creatives looked at me as if they wanted to jump the table and kill me. Oh well, I thought, they may as well join the club. Over the years there's been an army of people with that ambition.
The only exception to all this sturm und drang was Sladen. With a half smile he looked at me and said, "And I suppose you think you could do better?"
Without batting an eye, I answered, "Oh, I'm sure I could."
Maltman immediately jumped in, "Fine, we'll have George look at the scripts, then get back together in a week, and see what you think."
Still looking at Sladen, I answered, "I don't need a week."
The atmosphere in the room was now starting to get a bit weird. Sladen pulled out his silver cigarette case, extracted a hand-made, Morland's of the Strand cigarette (early James Bond fans know exactly what I am talking about here) and slowly lit it with his antique, gun-metal grey Dunhill lighter.
(In celebration I pissed away a small fortune for the same lighter later that day I still have it, meaning I have regular fights with airline check-in people who think it's some kind of fucking nuclear device. If it was a Bic disposable, it would be "Welcome to America. If that fuse in your sneakers proves hard to light, here's a book of matches, complements of Homeland Security.").
"Really," replied Mr. – I am in charge here, and if you forget it your ass is toast – Sladen. "And just how long do you need?"
"Oh… Half an hour should suffice," I replied.
Maltman looked like he was about to have a fucking heart attack.
"Fine," said Sladen. "John, why don't you and I go to your office for a drink, then we can meet back here in half an hour?"
Now I'm fucked, I thought. All I have to do is come up with a killer script in thirty minutes. However by the time I'd sat down at my typewriter (remember those?) and lit the first of many non-hand-made fags, I realized that, when it came to Old Spice, it's not as if the bar was set that high. As long as you've got girls with big tits in tiny bikinis and the action is nautical, you've got it cracked.

Half an hour later I was back in the conference room when Sladen and Maltman ambled in. Sladen held a large gin and tonic, one of several Maltman had fed him in the last thirty minutes (I discovered later that Sladen was a ferocious boozer. What you might call a kindred spirit).
I then proceeded to sell them "The Big Idea." Now, one thing I do pride myself on is being able to sell my stuff. Opinions may vary as to whether it's worth selling. But, no-one, and I mean no-one, can sell creative shit like me. I proceeded to wow them with a tale of ocean-going schooners, rugged sailing types and buxom maids dressed in toothfloss-sized bikinis. It was pure drivel, and they loved it. Well, Sladen loved it. Meaning everyone loved it!
Sladen, Maltman and I repaired to Maltman's office to imbibe copious amounts of gin and tonic. After many more glasses of "Mother's Ruin," Sladen insisted I was now "his man" and henceforth had to do all the creative on Old Spice. Maltman unhesitatingly agreed. And so began three years of exotic location shooting in the South of France, the Italian Riviera and the Caribbean. Yo, ho, ho and a bottle of boobs!
The funny thing is, here we are thirty years later and every after shave ad, still promising the same thing… splash this on and you'll get laid by semi naked chicks with big tits. Which shows there's nothing new under the sun.
Particularly in advertising.