Agency brands are disappearing. WCRS is no more, 101 is long gone, and Fallon is almost entirely subsumed into Leo Burnett. Meanwhile, over at WPP, JWT is merging with Wunderman, and Y&R with VML.
Is this erosion inevitable? Creativebrief invited three agency founders – John Hegarty of BBH, Charles Vallance of VCCP, and Lucy Jameson of Uncommon – plus Kerris Bright, the BBC's chief customer officer, to discuss the future for agency brands.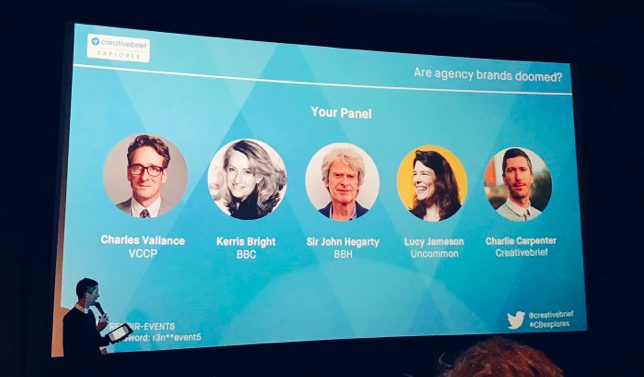 The industry's favourite maverick, Hegarty, didn't feel very positive about holding companies. He said: "They are detrimental to the future of the industry because they extract value from the companies they buy instead of investing in them. Holding companies have done their best to destroy the individuality of agencies.
"The fashion business understands it better. When their holding companies take over a fashion brand, the first thing they do is put a big name designer in there – but the highest paid people in our industry are accountants. They want profit, which destroys creativity. Holding companies don't think long-term."
Kerris Bright agreed: "For the holding companies, these are their brand portfolios. They have to think about the roles of brands and position them really well."
Hegarty might have been comforted, however, by the results of Creativebrief's survey, which asked 50 marketers and 50 agency execs which agency brands stand out for them. Both groups put Omnicom's adam&eveDDB first and Publicis Groupe's Bartle Bogle Hegarty second, showing that holding companies don't necessarily mean instant death for an agency brand – at least while there are founders around to live and breathe the original agency culture.
Mother was the top independent agency, taking third place in both rankings. The most telling statistic, perhaps, was that only 15 agencies were memorable enough to be mentioned more than twice.
Bright, who joined the BBC from Virgin Media a year ago, said: "Bland is not helpful. I look for clarity about what a group of people can bring to my business: a clear proposition, with a clear culture and values. Agencies need to show that they can help me solve my business problems, and be the people I want on my team."
People and talent want to work in strong agency brands, the panel agreed, and while there may be some self-interest in that conclusion, the evidence does seem to bear it out. Lucy Jameson said: "The ability to attract talent means you'll survive long term, because the best talent gets the best clients."
Charles Vallance agreed: "It's a talent game. Great creative departments and great planning departments make the best work. Who can attract the very best talent? If holding companies don't get their act together it won't be them."
While collaboration may be the buzzword of the day, Hegarty longs for a more individual approach to push agency culture forward. He said: "Collaboration sends a shiver down my spine. Great creative work is difficult, and having more people doesn't make it easier. It's nonsense. If you try and make it easy and nice it will be ordinary. I want more rebels, more egos – not people without a point of view. A powerful individual can transform the fortunes of a client and an agency."