Iggy Pop was one of the few people who actually talked about advertising at Cannes Lions. You know, those things that you see on telly, in a newspaper, or on the street selling you stuff? While everyone else this week was talking about the future, VR, AR and that coma-inducing word 'content', Iggy handed out good old fashioned advice to brands. For example, here's a new tagline he thought up on stage at the Palais for BMW:
"This is a fucking BMW, just shut the fuck up and buy the fucking car right now, bye." With a line like that I'd be down my local BMW dealership in a heartbeat. Should BMW ever want to win a Creative Effectiveness Grand Prix, they might want to look him up.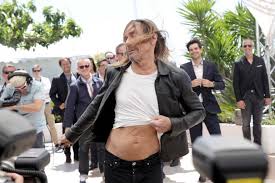 As for the rather more embattled VW, instead of corporate mea culpas, Iggy suggests the brand revive the 'how many people can you get into a Beetle' challenge and take it up a gear by doing it naked. Or VW could put a sign with the word 'naughty' on a car and have "women in bondage gear whipping it" – a sure fire way to stop people skipping your ad, according to the 69-year-old rock star. Iggy added (in case you hadn't already noticed), that he likes "high energy shit". The brainstorming that went on in his session would put anyone who felt they deserved to have the word 'creative' in their job title to shame.
The rock legend (and star of several ads for Swift Cover) testified to being "fascinated by advertising" and recalled ads he watched on TV when he was a kid with affection – and a particular 1950s commercial for Carters liver pills which seems to disturb him to this day. Hearing his song being played on an ad for the first time was a big thrill. "I felt like I was somebody," he said, adding: "It took me thirty years to realise I never thought about getting paid for it."
The fact that Iggy Pop is the original inventor of the stage dive, a now essential part of any rock show, was also brought up in the session. "I'm up there with Gutenberg," Iggy joked. I'd argue, instead of slavering over who will 'own the future' or the invent the next platform to take over the world, this industry would do well to pay a bit more attention to those, like Iggy Pop, who have a genius for coming up with new and brilliant ways of simply giving people a thrill.