WPP strengthened its position as the world's largest marketing services company according to a new analysis by boutique corporate advisory firm Ciesco. The group experienced organic revenue growth of 8.2 per cent in 2014, with total revenue of £11.5bn ($19bn). Omnicom's organic growth was 5.7 per cent, with revenues of $15.3bn. Publicis experienced weak organic growth with two per cent and revenue of €7.3bn ($9.6bn). IPG's organic growth was 5.5 per cent, with revenue of $7.5bn.

WPP announced a headline profit before tax of £1.5bn ($2.5bn), the highest in its history. Headline EBITDA was £1.9bn ($3.1bn), with a margin of 16.6 per cent. Omnicom's EBITDA increased 6.1 per cent to $2.2bn, with a margin of 14.6 per cent. Publicis' EBITDA increased 6.5 per cent to €1.2bn ($1.7bn), and is still ahead of its peers with a strong 18 per cent margin. IPG's EBITDA was up 25.5 per cent to $1bn, but their margin is still lagging at 13.3 per cent, despite a strong year for McCann Worldgroup, who recently published a number of new client wins.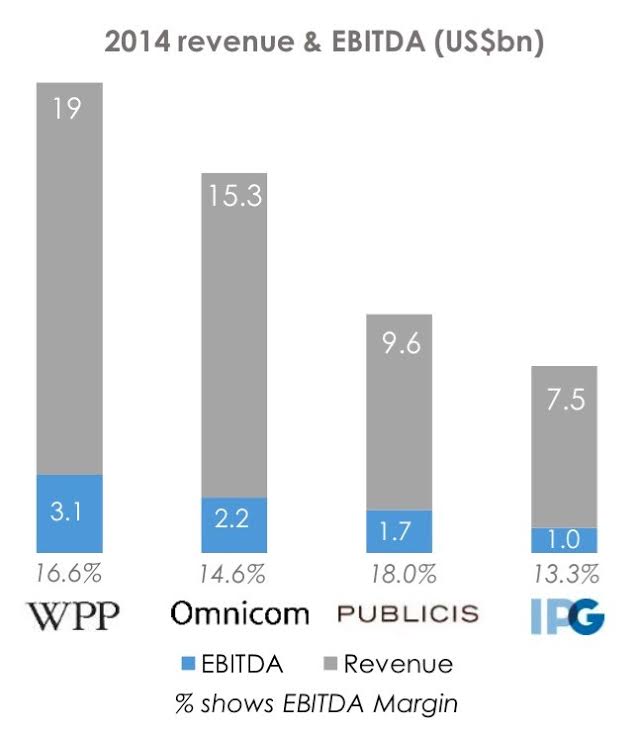 The UK remains a robust market for most of the four largest players, with WPP reporting £1.6bn ($2.7bn) revenue and 12.9 per cent organic growth in the region, Publicis being the only one of the four being underweight in the UK. IPG experienced very strong organic growth in the LATAM region, but underperformed in the US given its size in the market.
Continental Europe was a drag on all four holding companies in 2014. Most of the major networks are struggling with the shrinking of some of their fragmented Continental European markets.
Organic growth by region* (defined as year-on-year increase/decrease in revenue from the prior period, excluding FX and net acquisitions)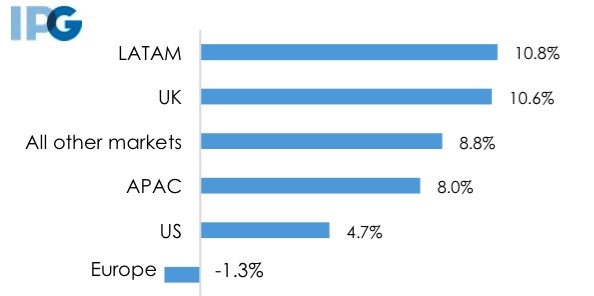 *Europe excludes Russia and Turkey
BRIC: Brazil, Russia, India & China
ME: Middle East
MISSAT: Mexico, Indonesia, Singapore, South Africa & Turkey
Ciesco is a boutique corporate finance advisory firm, specialising in the digital, media, marketing and technology sectors. It advises clients on mergers and acquisitions, business strategy and executive search.