Mother London has been hired by the United Nations to develop a global communications campaign to improve sanitation for 2.5 billion people across the world.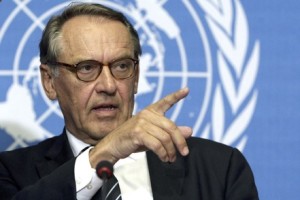 The UN's Millennium Development Goals is its latest ant-poverty project and it has highlighted poor sanitation as a major health and environmental hazard. With just 800 days to go meet the Goals' 2015 target date, UN deputy secretary-general Jan Eliasson (left) is heading a renewed effort to drive progress on sanitation.
Mother was appointed following a competitive international pitch. The agency will work closely with the UN Millennium Campaign (UNMC) and the UN's Water Supply and Sanitation Collaborative Council (WSSCC) to deliver a creative concept and produce an integrated communications campaign to support the global call to action on sanitation.
The campaign will run globally in English but be adapted locally to enable as many local partners as possible to support the call to action. The campaign will be rolled out in mid 2014.
Mother global creative partner Carlos Bayala says: 'The UN were looking for an agency with global capacity, an understanding of public service campaigns and a breakthrough idea. From the outset we knew the concept had to be simple and adaptable to enable the greatest local impact. As we roll out the campaign in partnership with the WSSCC and UNMC, we hope we can help facilitate the rapid progress required by the Millennium Development Goals."