Now it could be a coincidence that Arnold Worlwide global president Robert LePlae is leaving the agency – 'to pursue other interests' – hard on the heels of the loss of the flagship Volvo account (now owned by the Chinese) to WPP's Grey – but it probably isn't.
LePlae, who joined a couple of years ago from McCann, is to be replaced by Arnold veteran Pam Hamlin.
Arnold is owned by Havas and it may also be significant that newly-installed Havas chairman Yannick Bollore, the son of biggest shareholder Vincent Bollore, is making the announcement, rather than Havas CEO David Jones. Bollore says: "I've had the opportunity on numerous occasions to spend time with Pam and the leadership team of Arnold Worldwide. They are a passionate and talented group of leaders, and David and I are confident in their dedication to clients and their expertise in delivering creative ideas that drive business."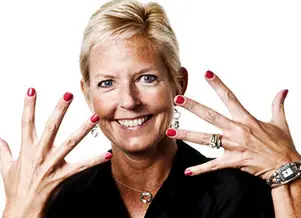 Hamlin (left) says: "I'm thrilled to take on the expanded leadership role at Arnold. We have a tremendous portfolio of world-class clients and a very talented group of people. Together, we have the ambition to be at the forefront of an evolving industry by powering our clients' brands with creativity in new and proven ways that deliver results."
Arnold has actually had a pretty successful time over the past couple of years but its efforts to become the world's most successful micro-network (14 offices in 12 countries) have been rather undermined by the Volvo loss.
This leaves it with Hershey, Progressive, Carnival Cruise Lines, CVS pharmacy, Jack Daniel's, ADT and Fidelity Investments as global clients, none of them A-listers. Big brother Havas has also had a tough time recently, losing Danone's media business in Europe to WPP's GroupM and to Carat in America (where's it's called Dannon, to avoid confusing the natives with a French accent presumably).
Unrelated to Volvo, of course. But Havas as a whole clearly has work to do to cling on to its status as global marcoms company of note. We may be hearing more from M. Bollore.