Penny for the Guy, governor… And what Guy would that be?
When I first came to America, long before most of you were born, I remember popping in to my New York bank one late October day to cash a check, only to be confronted by a bevy of witches, warlocks, demons and devils. Because I was desperate for cash to fund my newly formed three martini lunch habit (this was pre ATM days) I confronted the large breasted, purple faced, pointy hat wearing lady behind the cashier's cage.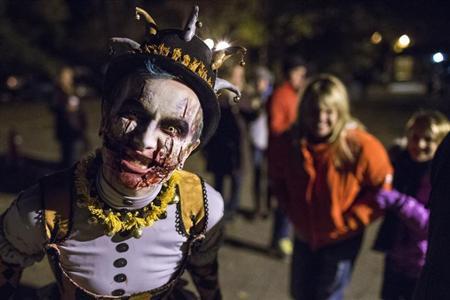 As she counted out the bills, I asked… "Why are you all dressed like this? She looked at me with an expression indicating I was some kind of alien who had just dropped off a passing UFO… "It's Halloween" she said. "What does that mean," I said. "It's a fucking holiday," she said. Actually, she didn't really say fucking, but the expression on her face did.
And that's the point of this particular rant… Unlike Europe, where most of you, dear readers, get twelve weeks or more a year vacation time… Or, even better, if you're unemployed, fifty two weeks a year. In America, it's two weeks a year, and a surprising number of people don't even take the full two weeks, 'cos when they get back, their position will have been "downsized," 'which is how most BDA's keep their bottom line up to snuff for their rancid BDHC masters.
A recent poll showed that the three most popular holidays in America are, Christmas, Halloween and Valentine's Day. I'm sorry guys, but my definition of a holiday is when you get the day off, hopefully with pay. Wearing face paint and funny outfits doesn't count… You are still at work. Besides which you've probably spent a fortune on your outfit that you will wear for one day, then you shit can it, because you have to top it next year. Do you have any idea how much booze that money would have bought you?
Believe it or not, there's a store in New York that sells Halloween, Easter, Christmas, Valentine's Day and birthday outfits for… Pets! Yes, you can dress your dog like Santa, or your cat like Lady GaGa. Further proof that a great many people are douchenozzles.
Thank God this kind of insanity doesn't happen in Britain… Oh, wait one fucking minute. Yes it does. According to the New York Times, Halloween is now the third most popular event for consumer spending after Christmas and Easter, with sales this year of 325 million fucking pounds… And I thought you guys were broke. Whatever happened to Guy Fawkes? When I was a kid, we couldn't wait for the Fifth so we could burn shit… Well, whatever shit was left over that the German's hadn't already burned… And we didn't have to wear costumes to do it. Anyway, you couldn't buy a Wizard outfit with clothing stamps back then.
Sincerely.
Disgusted of Tunbridge Wells.