One of UK medialand's best-known execs Nigel Sharrocks is stepping down following the completion of the £3.2bn sale of Aegis Media to Japan's Dentsu.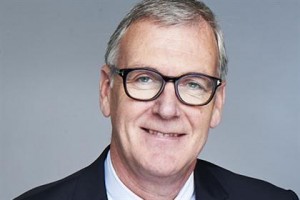 Sharrocks (left), 56, was CEO of Aegis Media global brands, one of those rather mystifying titles currently in vogue – he was jolly important anyway. Before this he was boss of Aegis Media UK and Ireland.
He's actually best known to the world at large as husband of top BBC presenter Fiona Bruce who he met when she toiled briefly at one of his former agencies BMP. Sharrocks joined BMP when his first agency Davidson Pearce was bought by BMP (now DDB) in the 1980s.
Davidson Pearce was a notably civilised UK agency that was always rather bedevilled by its most famous account, Brooke Bond PG Tips for whom it produced the long-running 'chimps' campaign. Despite a range of good work it could never quite escape its chimps agency reputation.
Sharrocks was media director, following in the footsteps of Alan Rich who went off to found media independent The Media Business which later became the foundation of giant WPP media agency MediaCom. The understated and urbane Sharrocks (left) could hardly have been more different to the flamboyant Rich, noted (among other things) for his confident attitude towards men's jewellery.
Sharrocks then left BMP to become MD of Warner Brothers in the UK before being lured back to join the rough boys at Carat, still Aegis's biggest brand. But his rather different approach (never adopting physical or verbal violence as a way of dealing with recalcitrant media owners) paid dividends for both parties as Aegis, under CEO Jerry Buhlmann, morphed into a big global media-based holding company.
56 seems rather a young age to retire even if he wants to spend more time with his money. The attractions of watching re-runs of the Antiques Roadshow featuring wife Fiona will surely wane in time. But top execs these days are put out to pasture for what seems like ever when they leave a big agency group.
It wouldn't be a surprise if Sharrocks emerged in another top role in time; most likely at a big media owner.
At Aegis he will be replaced by Peter Huijboom who we tipped for great things, maybe even the eventual successor to CEO Buhlmann, when he returned to the company last year.