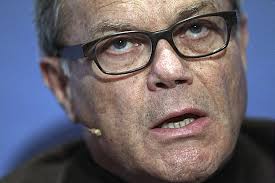 WPP boss Sir Martin Sorrell 'gives good conference' (as they don't say very often) and he was at it again last week, providing an intriguing soundbite for a talk-fest 'Beyond Advertising' at his giant media agency MediaCom.
This is what he said, according to The Drum (they were there, I was somewhere else – as usual).
[It's] the medium, or media, that determines the nature of the creative content, a fact which "doesn't go down well" in established ad agencies.
The days in which creatives ruled have gone and media departments are now much more front and centre. It's much more balanced now, which is for the best. The Don Drapers of the world did rule, but no longer.

And here he is on the same theme, more or less, around an FT conference – "Math Men not Mad Men."
The first of which prompted an 'open letter' to SMS from Mark Silber (left), ECD at WPP mobile marketing agency Joule, bemoaning another brickbat aimed at poor old creatives.
Well it's all good knockabout stuff but the reality is as Sorrell described it – media shapes the message more than any other criterion, certainly the wishes of creatives. As my friend George Parker noted, Marshall McLuhan got there first with this one nearly 60 years ago.
The real question is: what do you do about it? In particular, what kind of people should be running agencies and, indeed, advertisers in this new media age and how should they behave?
Media execs are indeed on the up in the big holding companies (it's highly likely that Sorrell's eventual successor at WPP will be from media, inside or outside WPP). But it's creative work that wins and keeps big accounts – and media execs aren't always the best at judging such matters. Nick Brien's fortunes as CEO of McCann being a case in point.
And, bizarrely in the light of Sorrell's comments, people still make their way in agencies in one of three only loosely connected disciplines: creative, media and account handling. Most of the bosses have come from account handling (knowing about as much about creativity as most media execs according to many creatives).
Surely it would make sense for everybody to spend some time at each one? You can see why Sorrell calls it a "legacy business" although it's surely in his remit to do something about this aspect of it.
Anyway, there you go. If clients keep 'extending' payment terms – as Mondelez and P&G among others are busily doing – there won't be any money to run agencies anyway, maths or no maths.