UK marketing budget growth is at its strongest since Q2 2022, despite an intensely challenging economic environment according to the Q1 2023 IPA Bellwether Report.
The data reveals the net balance of firms registering upward revisions to their marketing budgets in Q1 2023 is +8.2%, considerably higher than the +2.2% recorded in Q4 2022. While 21.1% of firms saw an expansion, 12.9% of firms registered budget cuts and around two-thirds (66.0%) recorded no change in spending.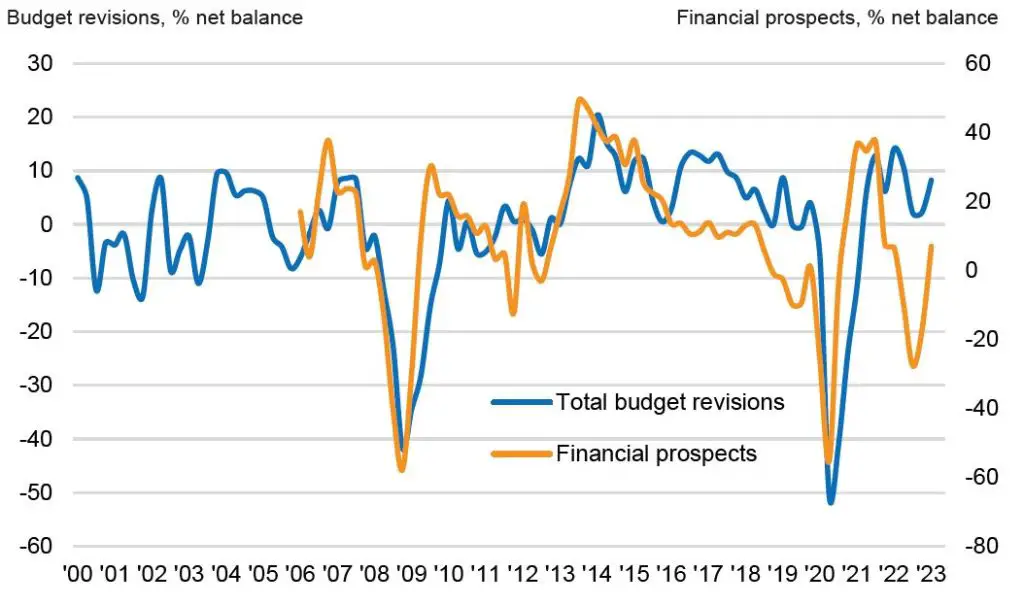 Growth by category in Q1 2023
Main media marketing, which includes online advertising activity and budgets for big-ticket campaigns on TV, recorded its strongest expansion in spending since Q1 2022 (net balance of +5.8%, from +4.4%). The breakdown shows continued marked expansions in other online (+10.5%, from +6.3%) and video (+7.9%, from +13.7%), and a renewed upturn in audio (+1.7%, from 0.0%). Published brands (-1.9%, from -3.9%) and out of home (-12.4%, from -8.8%) fell behind.
Sales promotions budgets returned to expansion in Q1 (net balance of +8.8%, from -4.0%), rising at the strongest pace in nearly two decades. Budget growth was also seen for events (net balance of +6.3%, from +5.7%) while direct marketing spending also rose at the start of the year (net balance of +4.2%, from -0.6%).
Budget Plans 2023/24
Bellwether firms' expectations towards their marketing budgets for the 2023/24 financial period were strongly positive, in line with the findings from the preliminary estimates collected at the end of last year. More than a third (36.6%) of respondents foresee greater total marketing spend in real terms in the year ahead, compared with 16.9% anticipating cuts, producing a strongly positive net balance of +19.8%.
Adspend forecast to improve from 2024 onwards
Bellwether authors, S&P Global's forecast for the UK economy has been modestly upgraded, with GDP in 2023 expected to decline by -0.2%, instead of the -0.8% anticipated in the last Bellwether Report. However, households continue to face shrinking purchasing power due to high inflation and borrowing costs, which will weigh heavily on the economy. Bellwether forecasts a small decline of -0.9% (vs. -0.3% previously) in adspend this year, a marginal improvement in adspend next year of 0.5% (1.2% previously), before expected growth to 1.6%, 2.0% and 2.2% in 2025, 2026 and 2027 respectively.
Joe Hayes, senior Economist at S&P Global Market Intelligence and author of the Bellwether Report says: "The latest Bellwether survey once again highlights the resilience of UK businesses who have endured both a pandemic and a period of plunging consumer confidence and multi-decade high inflation.
"Total marketing budget growth broadened out during the opening quarter, showing that more companies are tapping into their marketing resources to help them successfully navigate through economic turbulence."
Looks as though a majority of marketers have learned to cope with the apparently never-ending series of economic crises – the financial crash, austerity, Brexit, the pandemic and now soaring inflation – which have afflicted the UK over the last 15 years. With inflation still at unexpectedly high levels, any forecasts should be viewed with a degree of vaution.