The senior agency executive recoiled in horror when I suggested that creative and media agencies were tiptoeing back to full service.
"Clients will just say they want the creative or media for nothing!"
And there's something to be said for sending two invoices.
But the two parties, often with the same ultimate owner, have been trying to eat each other's lunch for years. Which might have been on the mind of Omnicom media giant OMD in appointing BBDO New York CEO John Osborn to be the new CEO at OMD US. Osborn succeeds Monica Karo who's to be chief client officer of OMD Worldwide while Kirsten Flanik moves up to replace Osborn.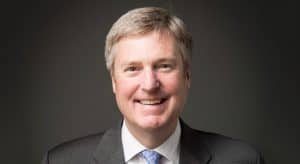 Osborn (left) says: "I have seen over the past couple of years the real opportunity that exists and the need that clients have expressed in the media side of the house and importantly how that media side needs to really intersect and intertwine with the creative side. I felt like it was an opportunity to come in and perhaps provide a jolt of electricity and take what I'm good at – I'm really maniacally focused on clients, on growth, on people and culture – and use that to try and work really closely with the leadership that already exists within OMD."
BBDO is also owned by Omnicom of course and, no doubt, the holding company intends to keep its creative and media offerings separated. Instead, according to Osborn, they'll "intersect."
Publicis recently appointed Steve King, boss of Publicis Media, to oversee all its operations in the UK including its creative agencies. They're definitely coming closer, intersecting along the way.