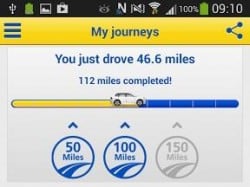 Last year Aviva launched its Drive app which tests your driving so that, maybe, you can get a discount on your car insurance if you're not a danger to other road users – or a likely cost to Aviva.
As we all know, the secret of making money in the insurance business is only insuring people who aren't a risk and – if the worst comes to the worst – finding a way of avoiding paying out when customers do make a claim. This will be much on the minds of Aviva and its rivals as they contemplate the northern half of England which is presently under water.
Also last year Aviva replaced long-serving agency AMV BBDO (all those ads with Paul Whitehouse playing a multitude of characters) with Omnicom sibling adam&eveDDB, making much play of the fact it was a 'global' account. Aviva has some, but not all that many, businesses outside the UK. A&E's first work has been a long time coming, suggesting that there was some debate over it.
Well now it's here with a slightly weird Welsh family competing with each other to be the safest driver according to the Drive app, their nicknames seeming like a tentative nod to Reservoir Dogs. Can't find the ad anywhere other than on Aviva's website (here) although it's being broadcast on Sky and, no doubt, other channels.
Why move agencies? Whitehouse has been on the case for a long time and maybe AMV struggled to find a replacement. A&E is good at coming up with over-arching strategies that may seem simple verging on the simplistic but actually convert well into advertising. In this case it's 'Good Thinking.'
Another case of an advertiser telling us what to do/how to live our lives? On one level, yes, but it's clearly in Aviva's interest to attract drivers who don't cost it too much (as above).
MAA creative scale: 7.