A while back we weren't too impressed by Holmes Hobbs Marcantonio's debut ad for Newsworks, the newspaper marketing body. Not that there was anything wrong with it, it just seemed too polite to tackle what is, for many newspaper groups, a desperate problem. Namely, the press is becoming marginalised.
Partner Alfredo Marcantonio reminds me that its theme of the power of the press is not top of mind for many of the people the campaign is trying to reach, so inviting people's interest rather than shouting at them is, they think, the right way to go.
HHM produced a new ad to cash on on the recent coverage of the Labour Party leadership election, one harking back to a famous ad of yesteryear. Let Marc take up the story:
"For the more mature political pundit, this year's Labour leadership battle has brought back vivid memories of the 1980 contest between Tony Benn and Denis Healey.
A struggle that a young copywriter seized upon to create one of Britain's most awarded press advertisements.
Having spotted a press photograph of amateur photographer Healey snapping Benn with an Olympus XA in one newspaper, Alfredo Marcantonio then saw Mr Benn returning the compliment in another.
Within a couple of hours he and his art director David Horry were presenting an ad to agency boss Sir Frank Lowe. It featured both images above the headline 'They obviously felt like shooting each other.' Lowe leapt on the phone and coaxed the Olympus client and the two newspapers into running it the next day.
It won awards at all of the industry's many gong fests and was described by 'The real Mad Men' author Andrew Cracknell as "not so much the ad of the year, as the ad of the decade."
A couple of months ago Marcantonio's consultancy, Holmes Hobbs Marcantonio was appointed to promote the potential of press advertising by Newsworks, the body that represents the interests of Britain's six most influential newspaper groups.
With the Labour contest looming, he and fellow writer Adrian Holmes have celebrated the original ad's silver anniversary by creating another that also capitalises on the power and pertinence of an artful press photograph.
It is that unforgettable Evening Standard portrait of the party's ex-leader Edward Miliband attempting to tuck into a bacon sandwich."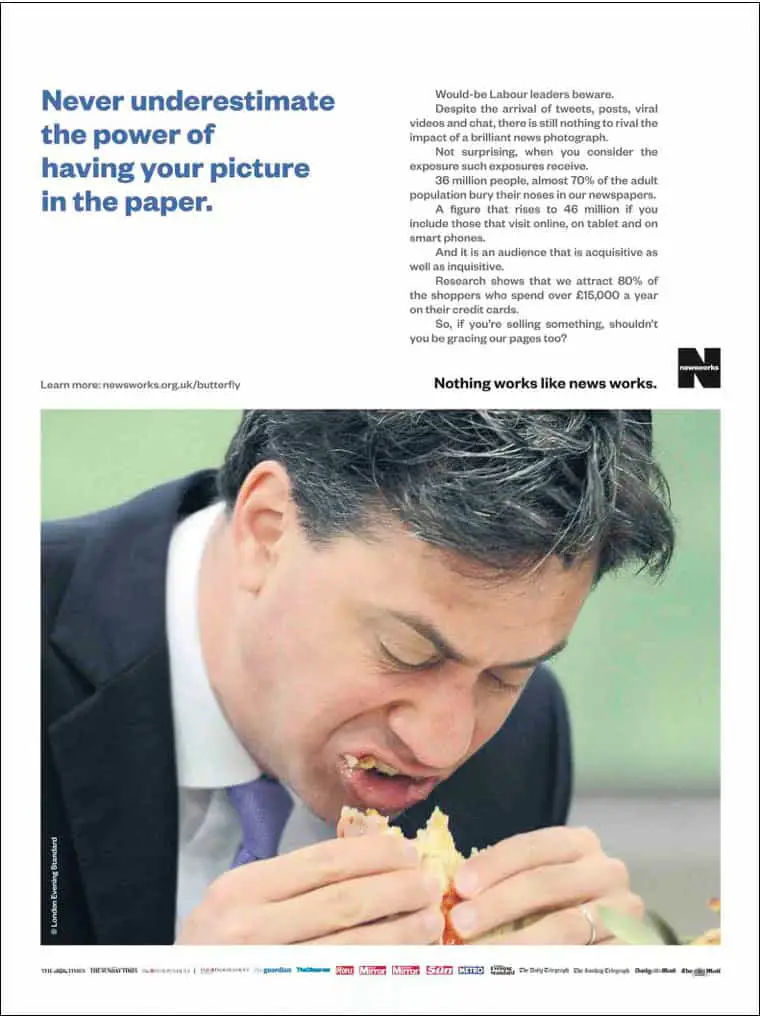 Fair do's.