As I mentioned in my previous article, my Christmas wish this year was that we'd witness a general shift towards digital first campaigns, with many brands spearheading their Christmas efforts with a digital strategy that matched the ambition and investment of their TV campaign.
But once again, it's the big TV ad that's eaten up all the budget. Switch on the telly and you'll be inundated with the latest heart-pulling, brand-reaffirming or in some eyes, controversial Christmas ads, but switch on your tablet or phone and it's a different story.
At a time where analysts are anticipating that December will see online sales skyrocket in the UK, it doesn't make sense that brands and retailers aren't adopting a more multi-channel approach meaning the overall customer experience still feels disjointed in general.
But despite this, there have been some really neat uses of digital that have caught my eye – and also a few that haven't. So here is my, very unofficial, digital brand audit for Christmas.
The winners
Tiffany & Co
On Santa's nice list – Tiffany's has, in my eyes, edged it ahead of John Lewis in terms of digital application. Sure, there's not a penguin in sight, but the luxury jeweller has done an exceptional job of maximising its Christmas activity online. Whilst fellow lux retailers such as Burberry busied themselves with interactive shop windows at a limited number of stores, Tiffany's has done a quality but understated job online.
The website still feels unmistakably Tiffany's but its iconic blue is used as a backdrop for a film that depicts New York landmarks with a festive snow scene and gentle introduction of product. Delve deeper and find interactive gift guides and shoppable videos where visitors can click and buy the jewellery featured in its animated short.

Whilst the user experience could be better optimised, I challenge you to visit Tiffany's (.com and store) and not feel a warm Christmassy glow.

John Lewis
The ubiquitous #MontyThePenguin. By virtue of a clever seeding campaign and the Nation's obsession with the annual event that is the John Lewis Xmas ad, the TV campaign became a digital hit – a good start.

The campaign transitioned really nicely in-store with neat digital experiences via a Google Cardboard inspired 360-degree interactive world along with 'Monty's Magical Toy Machine', installed at its flagship Oxford Circus store proving a real hit. This smart bit of tech turns a child's favourite toy into a life-like digital character which moves and dances on a screen – a real gem of an idea for families tired out after a day of shopping.

However, despite nailing near 'total retail' with the addition of a fun app, the web experience is a tad disappointing and feels a little like a smorgasbord of festive leftovers lacking the creativity and innovation of the rest of the campaign.
The much improved
Argos
A renewed, fresh approach has seen Argos really hit the right notes in the past couple of months. From its colourful ads with spikey attitude, to its huge steps forward in omni-channel retail, its Xmas strategy is the icing on the pud.
Its digital offering has improved immensely, both in-store and with the introduction of two apps based around gift giving. The first, for kids, is a digital Christmas wish list first developed at a hackathon in March: Argos has turned its catalogue into an animated app where children can create a wish list of toys they want to receive from Santa and email it on to him (i.e. their parents).

Meanwhile for adults, a Tinder-esque 'swipe right for yes and left for no' app helps you find the perfect gift. This experience-first, sales-driven-second approach has ensured Argos has been noticed this year. The only downer keeping them off the winners list was their meltdown during Black Friday.
Tesco
The retailer's Christmas ad didn't match up to its competitors this year. But Tesco has pulled a rather neat digital trick that means it deserves a special mention. The recently launched Secret Scan-ta app promises to help identify the ideal gift for any awkward Secret Santas at the work Christmas party.

By scanning a target's Twitter account and analysing their Tweets and followers, Tesco identifies the perfect gift (albeit out of the 500 or so they stock at Tesco) and presents it to you in a neat format. More of this next year please Tesco.
The could do betters
Burberry
It's probably surprising that a brand synonymous with great, innovative retail experiences such as Burberry is down on Santa's digital bad list. But this year it's looked a bit off colour. The interactive shop window had potential but struggled to go further than its flagship store in London and Paris and 'festive gifts' are a couple of clicks away on their site. The true power of digital lies in its ability to widen the experience, but Burberry, for once, failed to capitalise on this.
M&S
Ah yes, Magic and Sparkle. The ad itself was OK, though not as easily identifiable as previous efforts, and the digital experience offered some initial promise with #followthefairies on Twitter but engagement seems to have died away following the initial good start. Its website, has some nice, safe content but offers little in the way of inspiration.
All in all, there has been a bigger emphasis on digital activity among the big brands this Christmas. However, I can't help but still feel disappointed. Much of what I've come across feel like add-ons to Christmas campaigns as opposed to ideas that have been conceived to a truly customer first philosophy. A lack of joined up customer experiences incorporating digital channels leaves me feeling a tad 'bah humbug' about it all.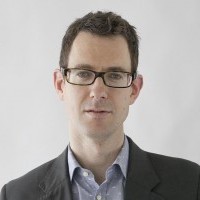 Paul Vallois is managing partner of Partners Andrews Aldridge.