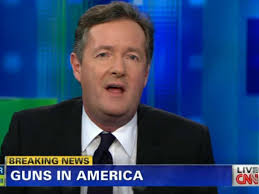 2014 isn't turning out very well for Piers Morgan (left) so far. The former Daily Mirror editor and would-be US TV superstar's peak-time chat show Piers Morgan Live has just been dropped by US news channel CNN as it grapples with falling ratings across the board.
The news follows hard on the heels of Morgan being interviewed under oath by British police investigating phone hacking at his former newspaper employer Trinity Mirror.
To add injury to injury Morgan, a famously resilient character but he'll need to be, is nursing a broken rib from an ill-advised joust in the nets against former Australian fast bowler Brett Lee in the wake of England's 0-5 defeat to the Aussies in last winter's Ashes series.
Morgan, who's actually a very good interviewer, upset many Americans with his outspoken attacks on US gun laws in the wake of numerous school shootings, with over 100,000 signing a White House petition demanding he be returned to the UK. American news networks are chiefly host these days to barking mad right-wingers like Fox's Bill O'Reilly and CNN's decision to hire a leftish Brit with an air of supreme self-satifaction was always a huge gamble.
Whether or not Morgan's potential legal difficulties played a part in CNN's decision is unclear. But the Rebekah Brooks/Andy Coulson phone hacking trial at London's Old Bailey is still grinding on and one of the key prosecution witnesses is former Mirror Group reporter Dan Evans whose time overlapped with Morgan's and who claims to have been a persistent phone hacker. Morgan himself has made a number of seemingly contradictory public comments about the practice.