Who'd work for a holding company?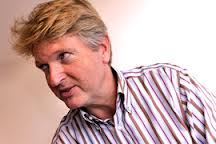 It's emerged today that Roy Jeans (left), CEO of Interpublic-owned OOH specialist rapport and recently elevated to the post of global CEO, is leaving the company. Rapport has ambitions to go global having taken IPG's US OOH business back from WPP-owned Kinetic (don't ask).
Now this is all a bit peculiar.
Rapport is a highly successful UK business, working for IPG media agencies Initiative and UM but, more crucially, for Samsung and Sky, the UK's two biggest poster advertisers.
So that's a pretty good template for rolling rapport out around the world, as IPG said when it appointed Jeans to the global CEO role back in the summer.
But now he's out, having been invited to re-apply for his new job – which, I understand, he declined to do.
Rapport now comes under Orion Holdings, which is IPG's barter business and a hugely profitable one at that. But IPG as a whole, owner of McCann and DraftFCB among many others, is struggling, delivering poor third quarter figures and manning the defences against a bid.
Jeans, who's widely respected in the UK media business after spells at Saatchi and Initiative, seems to have been the victim of a cost-cutting exercise.
You couldn't, as Richard Littlejohn used to say and probably still does, make it up.