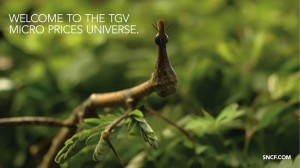 There's some very nice work coming out of France at the moment and, among other things, some agencies seem to found the knack of incorporating the public in their ads and promotions in a way that doesn't embarrass the people concerned (by showing them as brand-obsessed idiots) or the audience.
Rail operator SNCF and agency TBWA Paris have had the bright idea of building a vivarium in the Gare de Lyon to promote its new low TGV prices and created a number of nice online films to show what it's doing.
It's one of the best price promotion campaigns you'll see.