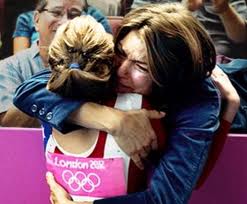 I was looking again at Christopher Booker's 'The Seven Basic Plots' and realised that the number of different kinds of ad is also limited. I'm sure I won't be the first to make this observation and the basic formats may differ slightly and there may be some overlap.
My list would include: the Claim, the Demonstration, the Testimonial, the Before and After (which might be a subset of the Demo), the Comparison (which might also fall under the Demo or the Before and After), the Hyperbole, the Life without Brand/Product (which is a kind of comparison, or a reverse Claim), and the Slice of Life. I think that humour, fear, tone of voice, use of music, cartoons and so on are executions.
Looking at these formats I was struck by how some Slice of Life ads could possibly be counted as modern classics in a way that would never have been the case some years ago, at least not in the UK.
One problem was (still is) that the depiction of 'real life' was often a substitute for an idea, and the refuge of many a hide-bound 'multinational' client; and linked to this was the issue of whether or not the brand realistically or interestingly fitted into the scenario. In the 80s, I think, a campaign for the US financial company John Hancock won some awards. The spots featured very believable human situations and cut away to a typed summary of their financial situation.
They were simple, believable, relevant and effective, and I was told they were crap. They were in some ways precursors to the present Chrome campaign, which is very well done and at times can be quite moving.

Of course, most slice of life stuff is still execrable. It is hard to do well as not only does the brand have to have a central role but the ads have to be well-written, well cast, well directed and well shot. I remember how pleased I was once to get Ken Loach, of all people, to shoot a McDonald's film for us for those reasons.
VW has often done slice of life very well – for example, the Darth Vader (also a demo) and the 'sounds like a Golf' (a demo/testimonial/comparison?) ads. One further example: Wieden+Kennedy's P&G 'Moms' ad for the Olympics, "The Hardest Job', ticks all the boxes.
For me, an ex-P&G executive creative director, it was a surprise because they used to present us a list of 14 or so ways to be competitive, the last of which was 'tone of voice' or something similar, which they then admitted they didn't know how to do. They did plenty of torture tests and so forth, many set in family situations, but not with the humanity and emotion of this commercial.

I may return to the (however many) basic ad formats issue. For print, Jim Aitchison's book 'Cutting Edge Advertising' has some great thoughts and it is important to look for modern classics outside film.