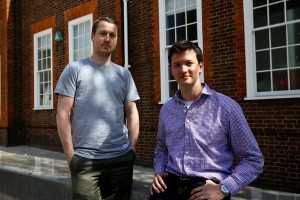 London-based social media agency We Are Social has poached creative team Graham Jenks and James Nester from OgilvyOne as the agency's first creative directors.
The pair produced the 'Gnome Experiment' campaign for Kern & Sohn scales which won digital and direct awards at Cannes last year and just about everything at the UK DMA (Direct Marketing Association) Awards.

We Are Social describes itself as a global conversation agency and is now chatting away in eight offices worldwide including New York, Singapore and Sao Paulo. Its clients include Adidas, Heinz, Unilever, Heineken, eBay, Jaguar, Intel, Moët & Chandon and Expedia.
Jenks and Nester say: "The chance to creatively lead the world's most respected social specialist is extremely exciting. Working with the experts here, we have an opportunity to use social thinking and innovation to drive the future of advertising."
We Are Social is clearly an agency worth keeping an eye on. But how long will it be before Jenks and Nester's old employer Sir Martin Sorrell of WPP comes knocking? Or munificent Frenchman Maurice Levy of Publicis Groupe?