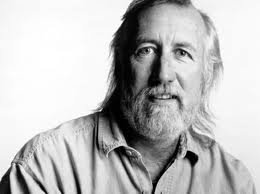 Following in the distinguished footsteps of Sir John Hegarty (2011) and Dan Wieden last year.
The 'Lion of St Mark' is the Cannes Lions' equivalent of a lifetime achievement award, named after the famous lion statues in Venice, home to the original ad film festival.
Clow, currently chairman of TBWA\Media Arts Lab, is best-known for his work on Apple; first at Chiat Day which produced the celebrated '1984,' ad, directed by Ridley Scott. He worked closely with Apple founder Steve Jobs when Jobs returned to the company in 1997; demonstrating not just creative skills but formidable account handling ones too as Jobs was famously intolerant of advertising types. He has also won plaudits for work on the likes of Gatorade and Pedigree.
Here he is chatting to Alex Bogusky about this and that, including some clever stuff for Nissan.

A well-deserved honour no doubt.
Wonder they'll come up with in years to come? Future candidates certainly don't trip off the tongue.