Set to a cover of Meat Loaf's "I would do anything for love" (but I won't do that), M&S Clothing & Home's first ad from new agency Mother brings a bunch of stars and a whole load of attitude to the high street retailer's Christmas ad campaign.
Hannah Waddingham, Zawe Ashton, Sophie Ellis Bextor and Tan France are here to remind us that we don't have to conform to all those Christmas expectations. They gleefully live out our fantasies of festive rebellion – the sight of Ellis Bextor blowtorching the unwritten Christmas cards is particularly satisfying.
The schtick is "Love thismas not thatmas" which feels a little laboured but you could maybe see it catching on. And the ad will provide another boost for the M&S Clothing brand, which is already enjoying something of a renaissance in terms of both image and sales.
Anna Braithwaite, M&S Clothing & Home marketing director, worked in marketing at John Lewis from 2001 to 2013 and more recently for four years at Tesco. She said: "We spoke to hundreds of our customers and they all told us that, at Christmas, they feel this pressure of having to worry about and plan so many things. We know it can often feel like the list is never-ending so this year we decided to celebrate and empower our customers to just do the things they love."
The film is directed by Ally Pankiw, best known for Black Mirror, and the campaign will be all over TV, OOH, print, digital, social, and podcasts. The Meat Loaf cover is by Ray BLK. Fast work from Mother which only announced it had won the business a few weeks ago.
It's the Christmas ad that needed to be made. Perfectly irreverent while still oozing festive spirit.
MAA creative scale: 9
Update
There's been what we should now call an X-storm (smallish one) over an out-take from the ad which featuring a burning green and white party hat, which some said resembled a Palestinian flag. This, bizarrely, briefly appeared on M&S official social media accounts.
M&S (one of whose founders was Jewish) responded thus: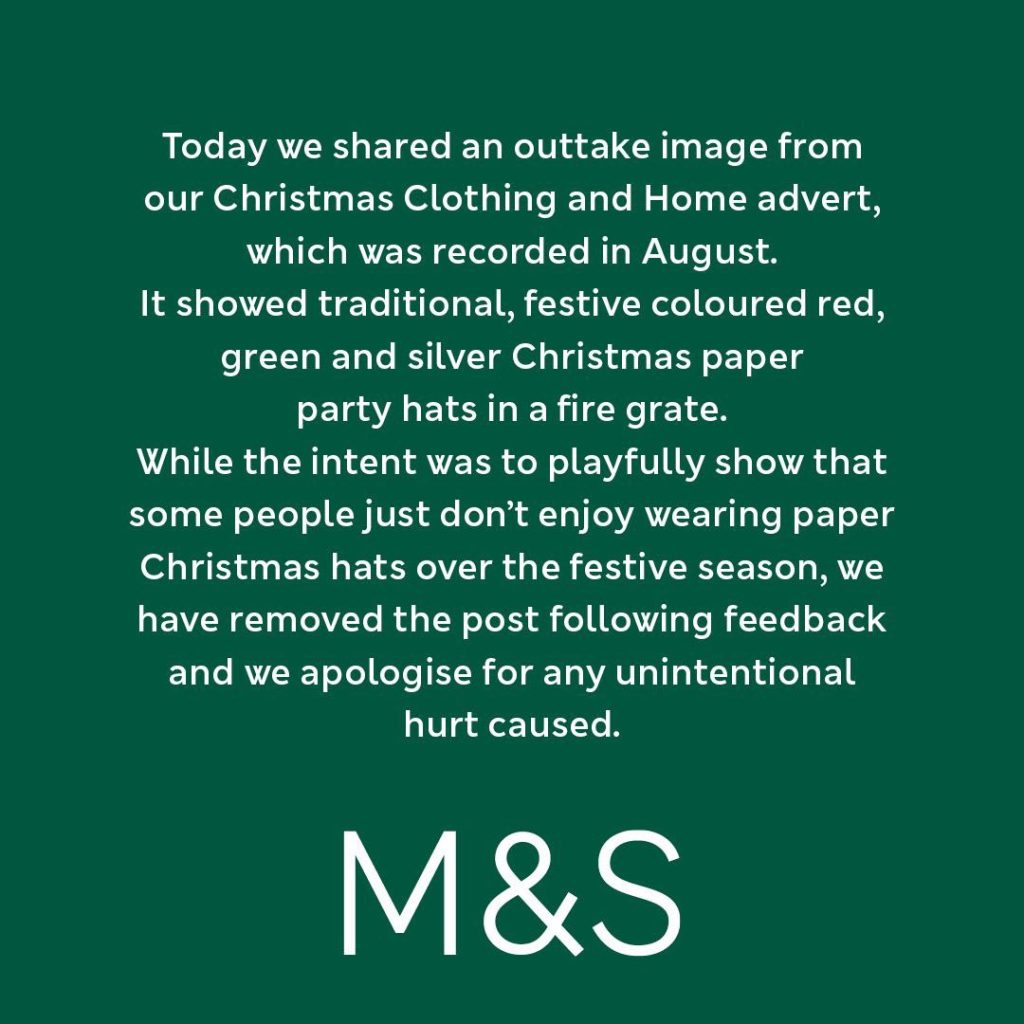 Which should be the end of it – but probably won't.
You have to sympathise with agency Mother (blameless as far as we know) for this. Also its brilliant ad for Uber Eats featuring Robert de Niro, acting human for once, has been marred a bit by his appearance in a New York court, accused of being beastly by a long-time assistant. The perils of celebrities…