News
Farage effect backfires for Campaign
Campaign seems to have landed itself in hot water with its cover story interview with Brexit Party leader Nigel Farage, editor Claire Beale producing a long mea culpa today.
She says the reaction from readers was overwhelmingly negative – making it clear that Campaign does not endorse "racism, sexism or bigotry of any kind."
There'll be more of this from Campaign it seems, including a public event – which is going it a bit. Will someone be tarred and feathered and run out of town?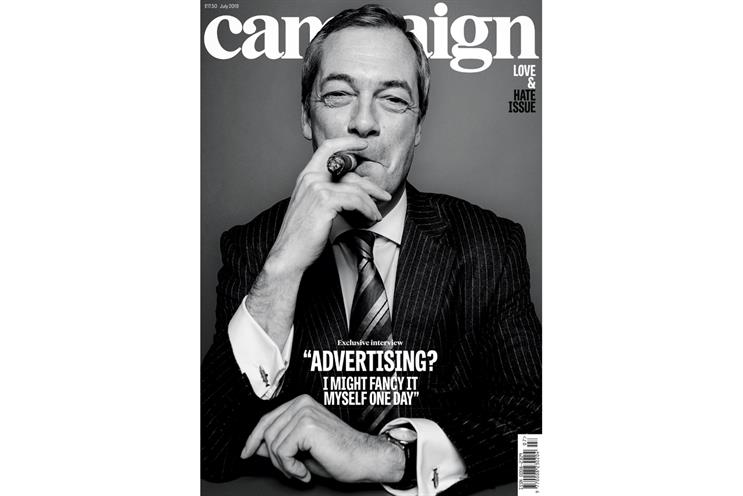 There are lots of valid reasons for interviewing someone like Farage, who is a big factor in British and European politics. He's also a pal of US president Donald Trump of course, as we're in the territory of racism, sexism and bigotry. Would Campaign, or anyone else, turn down an interview with Trump?
The original piece is stranded behind a paywall so we can't take a view on what Campaign did wrong, if anything.
But there are two interesting issues here.
One is that when a business title reshapes itself as a campaigning vehicle for "diversity and inclusivity" – as Campaign has – then it ties your hands a bit. Some of the fans of that approach will resent any content that seems to stray off the agenda.
The other is that journalists, alas, are prone to be flattered just like anyone else, and people like Farage are expert at it. Land a big star from out of your area and you can easily end up doing a PR's job. Some celebs insist on copy approval etc.
Back in the day I recall the publisher of Marketing Week landing an interview with the late Robert Maxwell, then the owner of Mirror Group newspapers, a powerful position at the time although not as powerful as Maxwell pretended it was – claiming to be in daily contact with world leaders seeking his advice.
Many of us thought he was a crook (as he turned out to be when he looted the Mirror's pension fund.) Everybody knew he was a vainglorious bully with some distressing personal habits, like peeing off the Mirror's roof.
But we ran the thing anyway – mercifully some time before his true doings emerged. In such interviews you rarely ask the questions you really want to, fearing that the celeb (usually a pretty dominating personality) will object or pull out. If you do, you rarely get proper answers.
So do you go ahead and hold your nose or pass?
Over to you, Campaign.