By Jonathan Conway
McDonald's has partnered with Talon Outdoor and OMD UK on a new approach to Out of Home audience targeting which has increased visits to its restaurants across major cities.
Since January 2019, McDonald's has used Talon's proprietary Out of Home data management platform (ODMP) technology to deliver advertising campaigns which promote the Saver Menu.
Talon's ODMP manages and activates billions of device-level audience data points alongside information about real world places and advertising opportunities, creating new insights about how people travel and how to effectively reach and engage them whilst on-the-go.
Advertisers can use ODMP to activate their own customer data, or to create custom audience segments relevant to their campaigns. McDonald's targets light and infrequent visitors to its restaurants and uses ODMP to produce accurate predictions of how these people behave and how to best target them on their everyday journeys, across any Out of Home environment.
Ad units targeting light and infrequent visitors to McDonald's restaurants are proving more effective at driving increased footfall to restaurants nationwide. OnDevice, an independent research agency, reported that Out of Home advertising has delivered immediate and sustained increases in visits from both new and existing customers. An estimated 460,000 incremental visits were generated in four tested cities during one campaign earlier this year.
Kat Howcroft, Senior Media & Budget Manager at McDonald's, said: "McDonald's operates in a highly competitive category, so we ensure our advertising investments are always focused on sustaining top of mind awareness and protecting market share.
"Talon's solution allows us to leverage mobile data and intelligence to identify and target the most relevant audiences, whilst still capitalising on OOH's core strengths of large scale reach."
Talon launches its ODMP – called Ada – in May 2019. The platform allows brands to deploy digital audience data and intelligence to supercharge OOH campaign planning and measurement. Ada connects with Talon's automated trading platform, Plato, which aggregates all OOH advertising inventory into one system and allows users to explore, plan, check availability, reserve and trade across classic and digital inventory. Talon will host an event in central London on 8th May to officially launch Plato and Ada.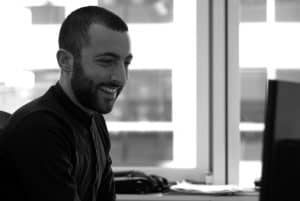 Jonathan Conway is chief strategy officer of Talon Outdoor.
About Talon: Talon Outdoor is a truly independent Out of Home media specialist and a significant player in the Out of Home agency sector with a focus on delivering smarter, creative, technology-led and integrated OOH communications. Combining independence with a collaborative approach, Talon promotes open working between agencies, clients and media partners.
Talon is the Campaign Best Places Number 1 Medium sized UK Company to Work For and has also featured in the Sunday Times Fast Track 100 and Best Companies and in LSE's 1000 Companies to Inspire Britain.
Talon handles the Out of Home media for several of the UK's leading advertising brands through Omnicom Media Group UK agencies, along with other agencies including AMS Media Group, JAA, Goodstuff, Ptarmigan Media and Republic of Media.
Talon has offices in London, Manchester and New York, and has built an OOH planning and buying network covering US, Europe, Asia and Latin America.
www.talonoutdoor.com