Came across this list in a piece in Campaign about Boase Massimi Pollitt, now adam&eveDDB. So, you might want to ask, where are they now and who, if anyone, owns them?
London adland was about to change pretty dramatically in 1968. BMP, a breakaway from Interpublic-owned Pritchard Wood, was just getting going. In the same unremarkable building, just off London's Charlotte Street, was a consultancy called Cramer Saatchi. Ross Cramer was a commercials director, Charles Saatchi was London's highest rated copywriter (knowing Charlie he was the best paid too) while the office junior was one John Hegarty. Up the road was Collett Dickenson Pearce.
But, below, you have the then agency establishment (as set out in the Campaign of the day).
(Disclaimer: I wasn't actually there at the time).

TOP TEN AGENCIES IN 1968 BY BILLINGS
1 J. Walter Thompson pounds 20.2m
2 Masius Wynne-Williams pounds 18.8m
3 Ogilvy & Mather pounds 12.5m
4 Young & Rubicam pounds 10.4m
5 S. H. Benson pounds 9.8m
6 Hobson Bates pounds 9.5m
7 London Press Exchange pounds 8.7m
8 Lintas pounds 8.7m
9 Dorland pounds 7.1m
10 Erwin Wasey/PWP pounds 6.5m
JWT was a quoted US agency which is said, by Ipcress File author Len Deighton no less, to have, amongst its many achievements, introduced Brooks Brothers button down shirts to London. One-time creative director and chairman Jeremy Bullmore (below, outside JWT's old Berkeley Square HQ) is still rarely seen without one. It's now owned by WPP of course, as was Jeremy until recently.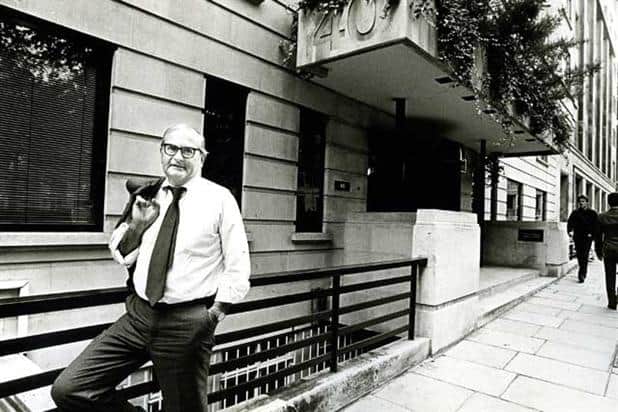 Masius Wynne Williams? Now whatever happened to that? Jack Wynne-Williams advertised Babycham (he allegedly pinched the account from JWT when the client was wandering around JWT's reception looking for someone to talk to). It became part of a US construct called D'Arcy Masius Benton & Bowles which ended up, I think, in Publicis Groupe.
Ogilvy & Mather we know about as we do Y&R: WPP again.
S. H. Benson was pretty famous, playing host to luminaries like Fay Weldon and Salman Rushdie (briefly). Dorothy Sayers too, who wrote 'Murder Must Advertise.' It was then bought by David Ogilvy to become part of Ogilvy Benson & Mather. Which is why you have Ogilvy & Mather now (also part of WPP – this is getting repetitive).
Hobson Bates was the London arm of the Ted Bates empire. Bates was bought for a (then) mind-blowing $500m by Charles Saatchi's Saatchi & Saatchi. Some date the fall of the Saatchi empire to this foolish purchase. The boss, Bob Jacoby, cleared off and so did most of the accounts. Some of it later re-emerged as the Bates empire in the Far East, owned (somehow or other) by WPP. This is now part of Johnny Hornby's WPP-backed The&Partnership.
London Press Exchange (those were the days) was bought by Leo Burnett.
Lintas, which stands for Lever International Advertising Services, was the in-house agency of Unilever. It went independent, nor very successfully, and was eventually bought by Frank Lowe's Lowe Howard-Spink. When Lowe was bought by Interpublic it was merged with an agency called Ammirati & Puris. I think it eventually became part of Draft/FCB.
Dorland was another member of the ancient British agency aristocracy that was stuffed by the money men. It was bought by an adventurer called John Bentley who spotted that its property was undervalued. It then revived under 'Black Jack' Rubins, even challenging Saatchis for top spot in London. So Charlie and Maurice bought it.
Erwin Wasey (no idea what the PWP stands for, an agency it bought maybe) was the second Interpublic network after McCann. It became Wasey Campbell-Ewald. Detroit based Campbell-Ewald is still part of IPG.
There we are then; all but three gone and very nearly forgotten. Say what you like about Sir Martin Sorrell, his agencies do, at least, appear to stay the course.