By Afsor Miah
Corporate finance advisory firm Ciesco Group's Market Intelligence team has tracked 542 transactions globally in H1 of 2015, with target companies spanning 45 different countries and buyer companies coming from 35 countries.

Figure 1. Deal volume 2012 – 2015

The number of announced deals in H1 2015 is down 10.4 per cent from the 605 transactions that were announced during the first half of 2014. The full year 2014 report published by Ciesco (in partnership with Experian) earlier this year showed that 2014 was a record year for M&A activity within the sector with a total of 1,028 deals, a 24% increase from 2013. Despite the fall in deal volume in H1 2015, on a full year basis, Ciesco anticipates 2015 will surpass the overall deal volume of 2014 as the market continues to witness heightened levels of ambition from both trade buyers and financial investors.
Ciesco CEO Chris Sahota (left) says: "The appetite that we have witnessed, through engagement and conversations with buyers, throughout Q1 and Q2 remains high. Management teams are showing confidence and are encouraged by their shareholders to explore M&A opportunities. We fully expect a continuation of that upward trend in overall deal activity for the full year."
Ciesco expects to see strong M&A deal activity in both Q3 and Q4 due to strategic buyers such as the large network holding companies and independent mid-market players all actively seeking acquisition targets across their specified disciplines and geographies.
The Outlook in Ciesco's full year 2014 Global M&A Review highlighted that the large advertising holding companies are looking to add additional services to their portfolios within their core markets. "We also continue to witness very strong interest in the sector from Asian buyers looking to acquire skills, knowledge-base and access to Western markets." says Sahota.
Figure 2. Most active buyers by number of deals

Dentsu Aegis Network's (DAN) announced 13 deals, jointly taking the number one spot with WPP, which is surprisingly low by WPP's standards as it had announced 39 deals in H1 2014. Jerry Buhlmann, CEO of DAN continues to maintain shareholders' confidence and gain approval for acquisitions. The group increased their presence globally with all 13 deals being outside of the holding company's home territory of Japan, with target companies based in the USA (two), the UK (two), Australia (two), and Greece, Poland, Thailand, Vietnam, Israel, India and Nigeria.
Many of the independent mid-market companies remained active buyers in H1 2015. In March 2015 St Ives plc announced its first significant overseas acquisition with Solstice Consulting, a Chicago-based digital consultancy specialising in mobile-first digital product design and engineering services, for £24.7m ($37m), with a further consideration of up to £25.3m ($38m) dependent on incremental profit performance.
In April 2015, Creston plc acquired a 51 per cent stake in How Splendid, a London-based digital design and development consultancy, for £15.7m ($23.5m). Additionally, Creston also bought a 27 per cent minority stake in London-based creative agency 18 Feet & Rising for £1m ($1.6m). These transactions mark the first signs of M&A activity by Creston since their sale of DLKW to Lowe Worldwide in 2010.
Additionally, traditional consultancies such as Accenture and KPMG continue to make further in-roads into the marketing services landscape and tap into the fiercely sought-after multi-billion dollar marketing and advertising budgets of global brands.
Private equity (PE) deal volume was down significantly, accounting for 36 out of the 542 deals in H1 2015 versus 85 in H1 2014. However, PE investors continue to remain interested in the sector with a specific focus on marketing technology businesses and are actively seeking investment opportunities and management teams to back. Vista Equity Partners, a US-based firm, were the most active PE with five investments in the sector, including a majority stake in Mediaocean, a New York-based software company that automates every aspect of the advertising workflow, for a reported $720 million.
HgCapital, a UK-based PE firm, made a majority investment in The Foundry, a leading provider of award-winning creative software. Bridgepoint were also very active, selling Infront Sports & Media AG, the Swiss sports marketing services business, for $1.2bn to China's Dalian Wanda Group in February and selling the John Brown Media business to Denstu in June. Bridgepoint also acquired a 40% stake in London-based MVF, a marketing technology business specialising in online customer acquisition and lead generation, for a reported $30m.
Sahota says:"In addition to traditional private equity investors, there are a number of new funds that have been, or are being, created led by former business leaders from the industry with the backing of financial investors. These funds are seeking to build out a new generation of business models to challenge the modus operandi. The investor thesis they deploy is to seek disruptive models and a new approach to marketing given the fragmented media channels and new technologies, providing greater reach, more effectively – all are challenging the status quo."

Asian companies continued to make a significant impact on the M&A landscape as they continue to acquire targets in Western markets with ever increasing deal values. These Asian buyers are looking to acquire skills, knowledge-base, experience and access to Western markets and brands. In additional to Dalian Wanda Group mentioned earlier, the now 'usual suspects', such as SingTel, BlueFocus Communications, Rakuten, Alibaba, and Baidu all announced acquisitions in the technology-enabled media and marketing sectors in H1 2015. Ciesco's report also highlights new emerging buyers from Asia, such as Keda Group, Cheetah Mobile and Yello Mobile.
The US continued to be the most active market both in terms of buyers and targets. From a European perceptive, Germany was popular for the large network holding companies, with WPP, Omnicom and Havas all making acquisitions in H1 2015 – the most notable being WPP/J. Walter Thompson's acquisition of a significant minority stake in Hirschen Group, Germany's fifth-largest owner-run agency, employing over 500 people spread over nine offices. Dentsu also recently announced its intention to expand in the market following the appointment of Zoja Paskaljevic as CEO of Dentsu Aegis Network in Germany in December 2014.
The Marketing Technology sector witnessed the most activity in the first half of this year, with 80 deals accounting for 15 per cent of all transactions. Deals in the sector include Twitter's $532.6m acquisition of TellApart, a California-based retail retargeting ad platform – Twitter's largest acquisition to date.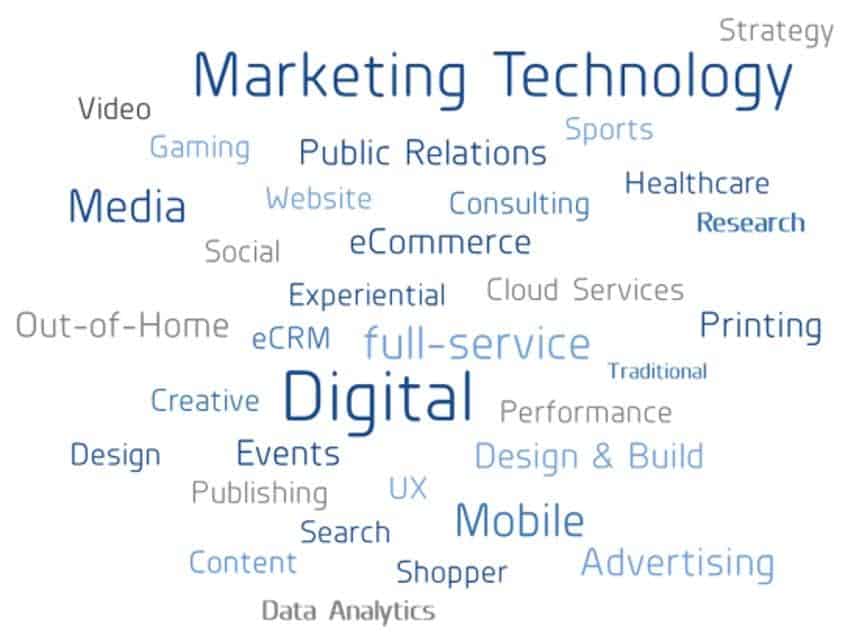 The Mobile sector produced 52 deals, accounting for ten per cent of all deals in H1 2015. In Ciesco's 2014 Global M&A Report, the Mobile sector was the most active with 114 deals and was closely following by the Marketing Technology sector with 113. The most notable deal in the Mobile sector in H1 2015 was the $58m acquisition of Paris-based MobPartner, a performance-based mobile marketing business by Cheetah Mobile, a Chinese mobile internet company. Industry forecasts predict global mobile AdSpend to further increase in 2016, so the Mobile sector will continue to be popular.
Figure 3. Most popular target sectors in H1 2015

A combination of elements are driving the current wave of MA& activity – confidence expressed by management teams with the backing and encouragement of shareholders, as well as the continued low cost of capital and companies with cash on their balance sheets. Buyers maintain strong interest in the sector and Ciesco fully expect a continuation of an upward trend in overall deal activity for the second half of 2015.
"We expect the number of transactions in the technology enabled media and marketing sectors for 2015, as a full year, will exceed 2014 in terms of total deal volumes, which in itself was a record year," says Sahota.
Afsor Miah is a director of Ciesco Group.

The above trends and insights are taken from Ciesco's review of the H1 2015 global M&A activity in the technology enabled media and marketing sectors. The report has been co-published with Experian, the data services provider, and provides an overview of deal activity, with statistical analysis of overall global deals by volumes and disclosed values, as well as by geographic region and sectors.
The report also provides insights and trend analysis of private equity related activity and an overview of the evolving buyer landscape, along with Ciesco's outlook for the sector.
A copy of the full report with all the findings, trends and insights is available from Afsor Miah at Ciesco Group.